Drone Hits Spectators Watching the Running of the Bulls (in Virginia)
Yes, everything about this *is* weird.
Hello, future. It is nice to meet you. You're not quite like I expected from reading about you, but you're interesting and I'd like to get to know you better.
Just this weekend, you surprised me again.
Apparently, some people decided to franchise the idea of Pamplona's running of the bulls to a handful of cities in the United States. To market these events, they posted photographs of Pamplona on their website, with the caveat caption, "The pictures featured in the slideshow are not from The Great Bull Run, but are representative of the type of experience to be offered at this event." PARTY LIKE PAMPLONA! Party in way that represents the type of experience offered in Pamplona!
The very first of these Great Bull Runs occurred this past weekend in Dinwiddie, Virginia. This is what it actually looked like: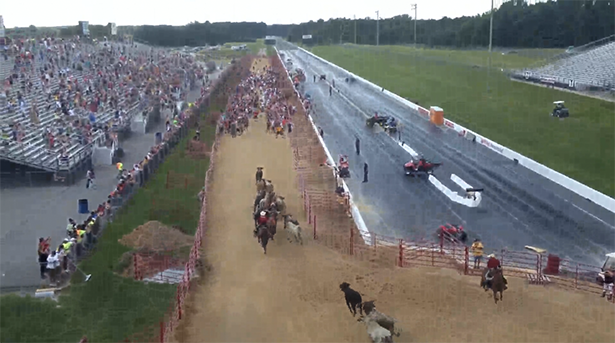 To up the production values, there were announcers and cameramen and a little dronecam -- maybe a foot across -- helicoptering its way around. Until, somehow, the drone operator lost control of the little chopper, and sent it careening into the crowd.
The announcer cries out, "It just hit a dude in the face!" It did, indeed. Apparently four or five people had minor injuries that were treated by medics on site.
If you need me for the rest of the day, I'll be over here trying to think of how to explain this event to someone from Finland or the year 1990.
Via Poynter.