Crazy World Record for Tweets Per Second Set Because of ... an Anime Movie
143,199 tweets per second baby yeah!

Unless you're an anime fan, you probably were just as oblivious as I was that, earlier this month, a great moment in World Twitter History had come to pass. A new world record for tweets per second was set at 143,199.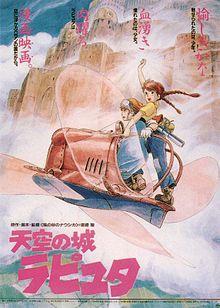 The spike, which lasted for one second, came during a showing of the classic anime film Castle in the Sky on the weekend of August 2 in Japan. At one point in the film, the film's protagonists "send the city's airborne fortress tumbling out of the sky" by casting the "Spell of Destruction," a Japanese word that has been transliterated, roughly, as "balus." At that precise moment, it has been customary for Japanese tweeters to tweet, in unison, "balus," and this is what sent Twitter's tweets-per-second into the stratosphere, well, well over the normal average of 5,700 tweets every second.
Other major events have sent Twitter's EKG spiking -- the 2012 election brought a surge of 327,452 tweets per minute, and major sporting events and awards ceremonies can result in big Twitter spikes -- but what's unusual about the Castle in the Sky outburst is that it all happens at the same very brief moment, resulting in the spike you see above.
Props to the Twitter engineering team who kept the ship afloat, so the rest of us could remain oblivious.