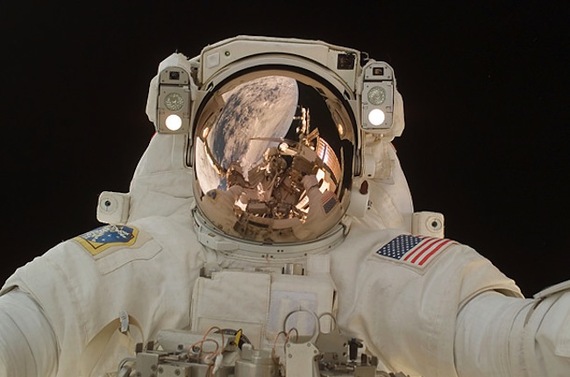 Imagine you're an astronaut. Imagine you're on a spacewalk. Imagine, in other words, that you are whirling above the Earth at more than 17,000 miles an hour, the only thing between you and the deadly vacuum of space a padded suit, a hardened helmet, and an umbilical tether that you hope is really, really strong.
Now imagine that your helmet, suddenly, starts filling with liquid. At first you think it's sweat, condensing as it leaves your skin. But then more liquid starts to seep in. You think it's water. But you're not entirely sure. And there's more of it, and more of it, clinging to your face, clogging your ears, covering your eyes.
Pretty much the stuff of nightmares, right? The air in your helmet -- the thing most precious, because most limited, in a spacewalk -- is suddenly competing for space with something else. And you don't know, exactly, what that something else actually is. The only thing you know for sure is that more and more of it is surrounding you. And your helmet is not getting any bigger.
Well, that living nightmare just happened to one of the people living on the International Space Station. This morning, Italian astronaut Luca Parmitano was conducting, with the American Chris Cassidy, a routine spacewalk to repair cables on the exterior of the Station. Things were going normally when, suddenly, Parmitano alerted Cassidy and his crewmates to his suddenly-moisture-filled helmet. At first, Parmitano thought the mystery liquid was, indeed, sweat: work done in the confines of a spacesuit, after all, requires a great deal of exertion. But there was too much of it. It had to be something else. "It's a lot of water," Parmitano said.