You Know What Would Be Awesome? A Selfie-Phone With a Tripod Built Into the Base
And next thing you know, there'll be the Selfie 3000, a phone with a Segway attached to the bottom.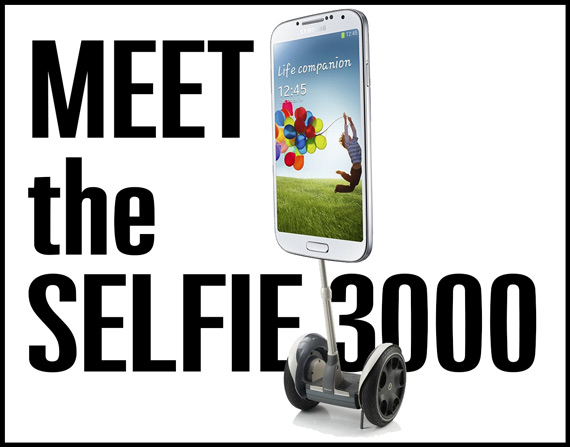 Writer Lionel Foster tweeted this afternoon, "Selfies wouldn't look like selfies, if more people had tripods." Which is true! The distinctive angles, not to mention arm and head postures of the selfie (which are awkward and terrible), result from a deficiency in the phone's picture-taking apparatus.
And it got me thinking: you know what would be awesome? A selfie-phone that had a tripod built into the base, that you drop down to create right proper self-portraits. (It was once a respectable form!) It would be voice-controlled, of course. "OK, Selfie-Phone, take a picture."
And then just imagine, you get some iterations... and suddenly, it's the year 2017 and Samsung releases the Selfie Universe IV, which is like a tiny, voice-controlled, picture-taking Segway that drops out of the bottom of the phone. It robotically self-adjusts to take perfectly flattering pictures according to the proprietary algorithms that the company created in partnership with OKCupid. You're just voguing and it's scooting around the table shouting out to you with a posh London accent, "Perfect. Beautiful. Chin up a little. Great. Gorgeous."
Just saying, that would be awesome. (And terrible. But still awesome.)
#YKWWBA: The first in an occasional series of our technological dreams.