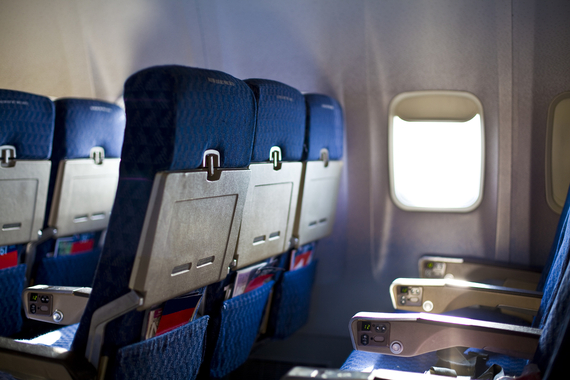 Here is a phrase that you may no longer be hearing on airplanes: "Please power down your electronic devices for takeoff."
For most harried air travelers, good riddance. The need to turn off one's laptop or tablet or what have you during takeoff may be an annoyance that fits squarely into the category of "problems that are not actually problems at all"; yet the rule, for all its in-the-scheme-of-things smallness, has become a kind of symbol for an industry's impulse to make air travel as annoying as possible for the fortunate slice of the population that has access to it. A few minutes of government-mandated SkyMall perusal may be far from the worst thing in the world; as part of a broader experience of air travel, though, it is a slight indignation that can take on the weight of indignity.
Here's the thing, though. If the FAA changes its rules when it comes to electronics usage, that will raise a challenge that's less about safety and more about common courtesy. And it's one that airlines -- businesses that straddle the line between the transportation and service industries -- will have to negotiate. At a talk at the Aspen Ideas Festival today, The New York Times's Andrew Ross Sorkin asked Jeff Smisek, the president and CEO of United Airlines, about plane-borne communication as a general likelihood. "When I use my cell phone on the plane," Sorkin asked, "does it really create a problem? You guys now have Internet on the plane. So I don't really understand."