Pew's out with an international poll that shows, across countries and overall levels of support, a striking gender gap exists on support for American drone strikes.
Women were much less likely to approve of "the United States conducting missile strikes from pilotless aircraft called drones to target extremists in countries such as Pakistan, Yemen and Somalia."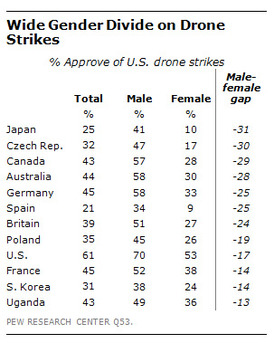 In Japan, for example, support for drone strikes was 30 percentage points lower than their male counterparts. The smallest gaps -- in France, South Korea, and Uganda -- were 14, 14, and 13 percentage points, respectively. On average, there was a 22-point gap between male and female support for drone strikes, and it didn't matter if there was considerable overall support for strikes or not.
"Gender gaps are also often seen in global surveys over the use of military force, with women far less likely than men to say that force is sometimes necessary in the pursuit of justice," wrote Bruce Stokes, Director of Global Economic Attitudes at the Pew Research Center's Global Attitudes Project, in introducing the data. "But the gender difference over drone strikes is unusually large."
The most directly comparable poll we could find focused on conflict in the Persian Gulf in the early 90s. Researchers asked whether respondents would support US military action if the embargo in Iraq failed. On average, men supported the option more than women by 7 percentage points. But there was considerably more geographic variation. Women in Ankara (the researchers surveyed by city rather than country) showed more support for the intervention than men there. Musocvites were roughly even, too. The differences were small in Lagos and Rome; largest in Stuttgart (-17), Tokyo (-15), and Mexico City (-15). The drone data, by contrast, shows a much more consistent pattern.