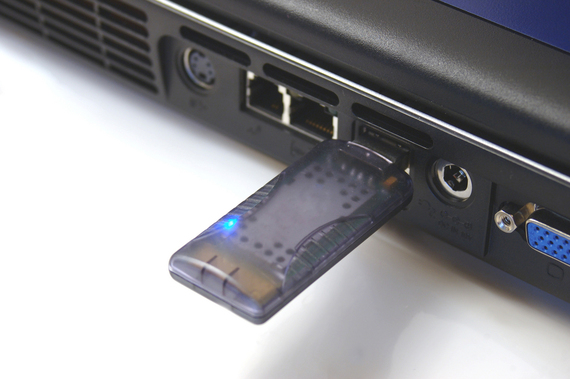 Want to connect your laptop computer to a television? You'll need a dongle. Want to track your fitness habits -- or your dog's? Buy a dongle. Trying Chromecast? You'll also be dongling. Or Sky's Now TV? More dongling. Or Leap Motion? Dongle again.
Originally slang for a plug-in module to copy protected software, "dongle" now refers to "any small module that plugs in and sticks out of a socket." A USB drive, technically, could be called a dongle. So could a cellular air card. 
For the most part, though, dongles have cords that hang off your computer, awkardly. Dongles ... dangle.
But where did the weird word actually come from? That's a matter of debate -- and, spoiler, of enduring mystery. We don't know much, for sure, about the word that has been a source of so much frustration and controversy and, regardless, ubiquity. But that hasn't stopped people from guessing. Below, some of the leading theories about the etymology of the word "dongle," from the expected (yep, "dongle," teehee) to the less so. You're welcome.
An Arbitrary Coinage
One of the likeliest origin stories doesn't, actually, involve much of a story. Most dictionaries, the OED included, attribute the existence of "dongle" to random inspiration on the part of an unknown neologizer. ("Probably an arbitrary coinage," one reference sums it up, rather dismissively.) According to the book English Words: History and Structure, "dongle" is one of a class of words that seem to have sprung, Athena-like, from the minds of their first utterers in a process of "de novo creation." Fellow arbitrary words, per this assessment: ditzy, gizmo, grungy, blurb, hanky-panky, and -- a term whose existence can be considered "arbitrary" in only the most clinical sense -- flamdoodle.