Surveilling the Birds
A tour of the longest continuously running bird banding station in the U.S.
An hour's drive east by southeast from Pittsburgh, hidden among the picturebook-perfect red barns, white fences, and green fields of the Lignonier Valley, lies an equally carefully maintained landscape of bird research -- a nature preserve whose ponds and wildflowers have been augmented with mist nets, field microphones, a songbird recording booth, and a one-of-a-kind rotating flight tunnel.
On a recent morning, Venue joined researchers Luke DeGroote, Amy Tegeler, Mary Shidel, Kate Johnston, and Matt Webb, as well as several dozen warblers, catbirds, and a cuckoo, for a tour of the various devices of bird surveillance at the Powdermill Avian Research Center (PARC), part of Carnegie Museum of Natural History's Powdermill Nature Reserve.
Founded in 1961, PARC is the longest-continuously running bird banding station in the United States, and has assembled one of North America's largest census data sets on migratory songbird populations. Six days a week during the spring and fall (and only slightly less often during the winter and summer), DeGroote and his team head out before dawn to unfurl the Center's 61, 40-foot long, eight-foot tall nylon mesh mist-nets.
Over the course of the morning, until either the temperature reaches 78 degrees or the time hits 11 a.m., whichever comes first, these superfine, over-sized volleyball nets form a network of barely visible barriers stretched between trees, along the banks of artificial ponds, and hanging parallel to overgrown hedgerows, trapping both droplets of dew and unwitting birds from the atmosphere.
The majority of the nets have stood in the same place for the past half-century, raised and lowered each day to create a sort of avian calendar, marked by the arrival and departure of different species within the northern Appalachian landscape. Indeed, as we accompanied DeGroote on his rounds, he noted that the preponderance of warblers signaled that the spring migration was drawing to a close.
While carefully untangling a Kentucky Warbler and a stunning Scarlet Tanager (the first male of the season, apparently) from the first net, and stowing them in cloth bags attached to a system of color-coded carabiners he wore on a chain around his neck, DeGroote explained that the landscape is pruned and maintained to remain as similar as possible to its 1970s "early successional" state: arrested in a state of post-agricultural regrowth that will never be allowed to mature into secondary forest. The more things the banders can keep the same within their own research ecology, the more valuable their data becomes for detecting changes in bird populations and behavior. It is both a control landscape, anchoring the variables of the various experiments, and a landscape of control.
Bird-banding, we quickly realized, does not make for a relaxing morning. Every minute spent away from its normal activities eats into a bird's valuable refueling and breeding opportunities, so PARC's operation is set up with assembly-line efficiency. Back at the banding station, DeGroote and his colleagues unhooked bird bags from their necks and hooked them onto a washing-line pulley for processing.
PARC catches roughly 13,000 birds each year (their up-to-date tallies are posted online), 3,000 of which are recaptures. The other 7,000 need to be issued with a unique 9-digit number ("bird Social Security," joked DeGroote), which they will carry with them for the rest of their lives on a small aluminum cuff gently fitted around one leg. On the wall, behind the bird pulley, was a map showing all the places PARC bands have been reported, with sightings as far afield as Peru.
DeGroote held a bird in one hand and typed with the other, measuring and entering data on weight and wing length, all the while continuing a running commentary on sage grouce dance-offs, the particular chirrup a bird makes when it is released ("like it's saying 'potato chip'"), and the dietary choices to blame for the cuckoo's notorious stink (too many caterpillars). By blowing gently on the birds' stomachs, he revealed more data points: their fat stores (visible through translucent skin) and breeding condition.
The only pause in the otherwise seamless process came when trying to determine the birds' age. The quality of their feathers is apparently the main giveaway--baby birds grow all of their feathers in a hurry so that they can get out of the nest, and then have to regrow some to a higher standard. The difference is almost impossible for a novice to spot--the juvenile feathers have slightly less of sheen, and the plumage pattern is muddier--and it is sometimes quite challenging even for experts.
As we watched, hypnotized by the banding team's practiced, economical motions, PARC's bird processing line ground to a brief halt over the cuckoo, whose spotted tail feathers were of inconclusive quality. DeGroote pulled down a reference book to look for additional clues before playing it safe with a broad "older than two years" designation, and swinging smoothly back into action.
Even the architecture had been modified to account for this avian activity: a small hole in the wall, complete with a sliding panel, acted as a quick-release hatch for any birds not destined for additional research. With the banding as its baseline activity, PARC balances releasing birds quickly with the opportunity to conduct additional research, and this season was also hosting a West Nile virus swabbing station, as well as its own ongoing programs for flight tunnel and bioacoustic research.
We accompanied Amy Tegeler, the bioacoustics program manager, over to her recording studio, with a gorgeous and talkative black, orange, and yellow American Redstart in tow.
In addition to its mist nets, the landscape around PARC is also miked, with three pole-mounted "sky ear" recording devices, based on a simple plastic flowerpot design originally developed by Bill Evans.
As they migrate, most songbirds emit short, single-note nocturnal flight calls. No one, Tegeler explained, is quite sure why they do this--she likened it to trying to make a phone call while running a marathon--although the generally accepted hypothesis is that it has to do with maintaining flock spacing and avoiding collisions.
Researchers are not only interested in learning about these nocturnal calls for their own sake, however: the idea behind PARC's bioacoustics program is that, by using software to analyze recordings of the nocturnal soundscape, it will be possible to conduct a remote, automated census of migration and species numbers.
This, Tegeler was quick to explain, won't replace bird banding. Instead, a bioacoustic survey can pick up species that aren't often caught in nets, can be used in environments that would be difficult for humans to reach or set up nets in the first place (remote rainforest and cities, for example), and offers the opportunity to conduct lower-resolution counts across a larger landscape (perhaps even as a citizen science effort--the microphone costs about $50 to make out of parts readily available at a hardware store and RadioShack).
While exciting, the technique is still in its infancy, and the Raven Pro software that Tegeler uses to extract flight calls from the hours of night recordings--cross-species cryptanalysis as app--also flags, unfortunately, each and every raindrop impact as a bird. After spring migration season, Tegeler estimates that she ends up with 75,000 audio clips, only 5,000-10,000 of which are actually calls. Sorting through the terabytes of data takes months.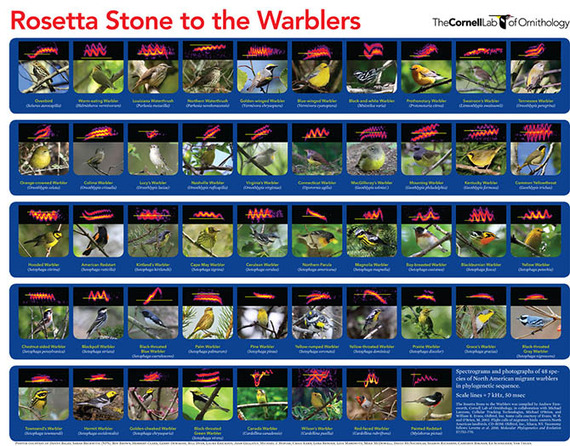 To help improve the software identification rate, PARC has built a custom-designed bird recording studio, which it uses to capture a "Rosetta Stone" library of "clean" nocturnal flight calls, to replace the fuzzier field recordings currently used as reference.
To demonstrate, Tegeler dropped our Redstart into an "acoustic cone" (actually a black-out fabric cylinder built from a long-sleeved T-shirt and two embroidery hoops from Jo-Ann), hung it between four mics in a soundproof booth, closed the door, and sat down at the control desk with her headphones on. The whole set-up looked like something Paul McCartney might use to re-record a vocal track--that is, if he liked to sing suspended in mid-air in complete darkness.
With her headphones on, Tegeler played our avian rock star two minutes of American Redstart nocturnal flight calls recorded in the field, interspersed with silence, and the croak of a spring peeper frog as a control. From within the booth, the bird responded to the calls with four high-pitched squeaks--in the process, yielding a perfectly clean recording for Tegeler and other researchers in her field to work with.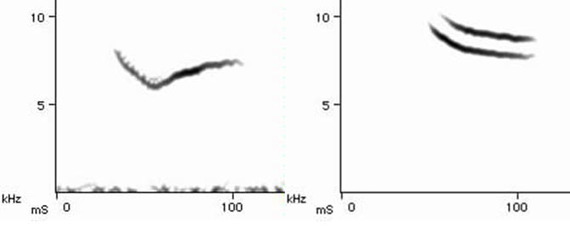 With most common birds recorded, this migration season, Tegeler has been collecting data to try to establish what other information, beyond species identification, is embedded in nocturnal flight calls.

"There are patterns to the calls, but we don't yet understand why, or what they mean," Tegeler explains, adding that the calls themselves can be separated into distinct types, named for their sound: buzzy, zeep, upsweep, downsweep, and chip. An entire acoustic ecosystem awaits decoding: some species will respond to other species' flight calls, others, for reasons known only to themselves, won't; and Tegeler can hear variations within a species' calls, based on an individual bird's age and sex.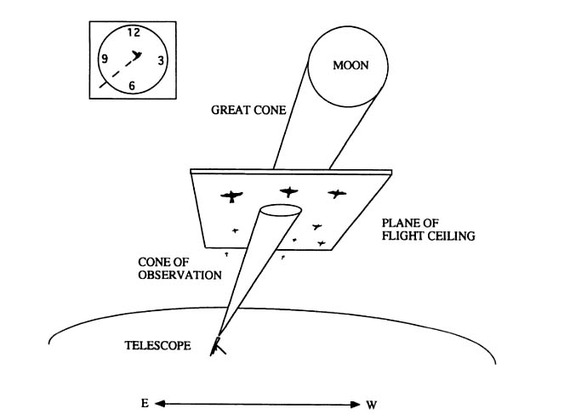 Astonishingly, before bioacoustic research got started just a few decades ago, the only way to gather data on nocturnal bird migrations was a technique called "moon-watching," in which researchers and volunteers would point a telescope at a full moon from twilight until dawn, counting and identifying birds silhouetted against its disk.
Now, nocturnal flight call surveys are matched with radar bioscatter analysis in a new scientific discipline called "aeroecology," or the study of the planetary boundary layer and lower free atmosphere as a biological ecosystem.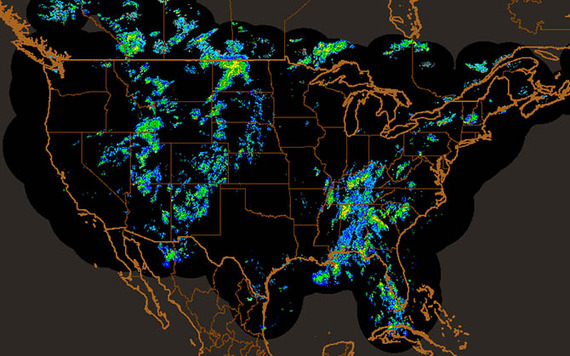 Meanwhile, bioacoustic bird monitoring is just one area of an emerging field of acoustic ecology: researchers are using sound to assess population shifts in species as diverse as whales and bark beetles, while the National Park Service recently recognized soundscapes as an intangible asset, worthy of historical protection, and has begun installing field microphones across their lands to conduct a system-wide acoustic survey.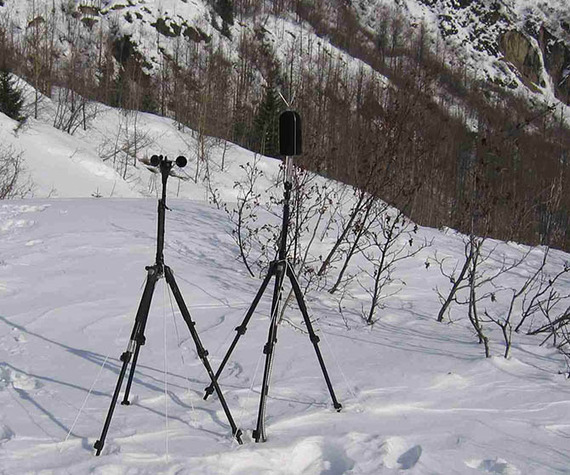 From the ways in which humans use invisible information to see birds, we moved to the bird's final stop in their short, PARC-assisted detour--a device designed to test how birds see human infrastructure.
One of only two bird flight test tunnels in the world, this prototype was built in partnership with Christine Sheppard of the American Bird Conservancy, in order to test how birds interact with different window treatments. An astonishing number of birds--more than a billion, according to the most recent estimates, or roughly five percent of the country's total avian population--die each year as a result of flying into the glass facades of urban America.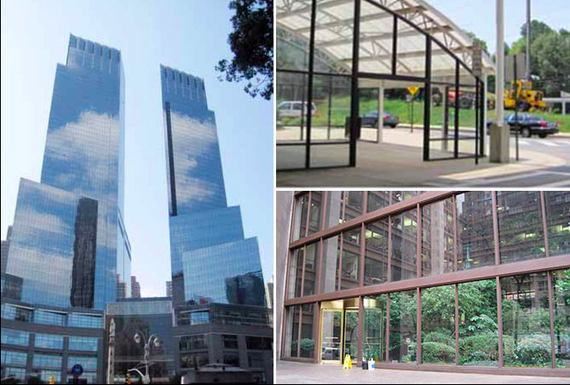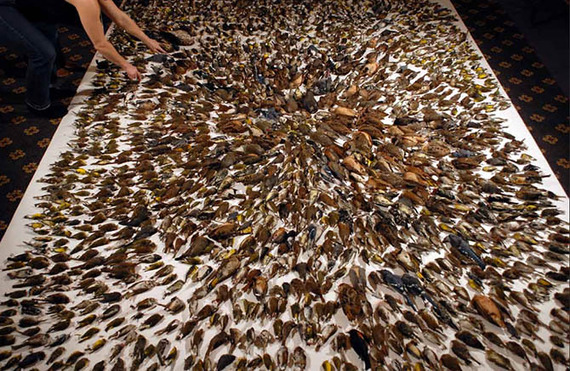 Sheppard's goal is to measure "relative threat values" for different kinds of glass patterns or finishes, in order to develop a recommendation for the most bird-visible (and thus bird-friendly) glass. And the device she has designed to do that is extraordinary: a stretched-out shed combined with the trompe-l'oeil trickery of a Baroque cathedral.
Matt Webb, the technician in charge of these bird/window strike-avoidance studies, retrieved a bagged Grey Catbird from the banding station ("they love flying in the tunnel"), in order to show us how the system works. He released the Catbird from its bag into a tiny hole at one end of the tunnel, and, as it flew down the ten meter-length darkened shed, a video camera connected to his laptop recorded the bird flying toward the plain glass control panel covering half of the tunnel's other end, rather than the crazy-paving patterned glass on its right.
As we braced sympathetically, anticipating impact, the bird was saved by an invisible mist net (the same kind the banding team use). It hopped about in the felt-lined tunnel, completely unharmed and making the miaow-ing sound for which the species is named, while Webb logged the result, walked around to the side, opened a small door in the tunnel wall, and released it.
This particular manufacturer's "bird-friendly" glass, Webb told us, has a 73 percent avoidance rate, meaning that out of 120 tunnel test flights (each using a different bird), 88 had presumably seen the pattern, and chosen to avoid it by flying toward the clear--and hence invisible--glass to the left.
Not all birds are suitable research subjects, Webb explained: Yellow Warblers "get confused" and fly around in all directions; our vocal friend the American Redstart often sees the safety net, rending the whole test moot; and House Sparrows and other cavity-nesting birds simply make themselves at home in one of the tunnel's dark corners.
The tunnel itself is an experimental prototype: it is based on a design originally created by Austrian scientist Martin Rössler to test free-standing glass panels used in highway barriers, and Sheppard is already fine-tuning the next-generation tunnel from her base in the the Bronx.
Briefly, it is worth noting some resonances here between Sheppard's architectural design for tracking and framing bird flight and a body of much earlier work done by bio-media pioneers such as Étienne Jules-Marey, who performed his own controlled studies of bird flight.
Jules-Marey's work combined innovations in multi-lens camera design and wearable media for birds with an interest in the science of flight to produce astonishing documents of animal bodies in motion.
These often took surreal form, including a proposal for hooking birds up to a machine that could register individual wing beats.
In any case, at the moment, Sheppard's current flight-monitoring structure is mounted on a turntable so that it can follow the sun, thus ensuring that its mirrors bounce sunlight onto the front of the glass at the same angle all morning. Inside the tunnel, and for the birds that fly through it, it is always the same time of day.
When we followed up with her by phone, Sheppard explained that this feature, while ingenious, is not perfect:
In Sheppard's new design, the entire tunnel is housed in a shipping container, which allows for a much more closely controlled, and potentially more sophisticated, set of lighting parameters--"daylight" bulbs at various angles and intensities will be able to mimic different times of day, while sodium-vapor lamps could simulate the effects of nighttime light pollution.
The shipping container also weather-proofs the structure: although we visited on a sunny, calm morning, the current tunnel has been known to pivot with a sudden gust, giving bystanders a nasty shock.
Most important, however, is the fact that the new tunnel will increase capacity. "With only one tunnel," explains Sheppard, "we actually can't do enough testing to conduct our own research and test prototypes for glass companies that are trying to develop products for bird-friendly design. And, because we definitely want to encourage the market for bird-friendly products, we've been doing a lot of commercial testing over the last two years."
Even as scientists move toward a better understanding of avian perception (Sheppard told us of one project to build a model of the avian retina using a digital camera equipped with a series of specially designed filters), they still can't necessarily model how the bird will react to that visual information--"the 'what do the birds think about this?' question," as Sheppard puts it.
Although the American Bird Association already knows (and recommends) several strategies for bird-friendly design, their goal is not to arrive at a single avian-endorsed glass solution. Instead, Sheppard says:
In other words, PARC's spinning, elongated garden shed, with its trompe l'oeil sky, wing mirrors, and slide-in glass panels, is a cross-species translation tool--a structural device designed to test whether the built environment makes perceptual sense both to people and to birds.
As the last stop on our tour of this well-oiled bird surveillance machine disguised as a nature reserve, the flight tunnel provided an intriguing counter-perspective, asking, in this artificially shaped landscape disguised as a natural preserve, how birds see our habitat and what their perceptual frame might require from our own future designs.