Portlandia Everywhere: Where the Hipsters Are (According to Yelp)
Find the areas to love/hate in Austin, Boston, Chicago, London, LA, New York, Paris, Philadelphia, San Diego, SF, Seattle, Toronto, and DC.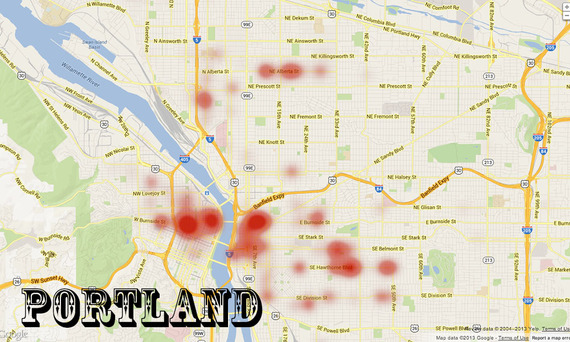 These days, every big city has a section of town where you can get a cold-brewed iced coffee made with beans source from a single farm in Nicaragua -- and a PBR. And when you are there you know that this is where the hipsters live.
Because a substantial part of being a hipster is consuming hip stuff, Yelp turns out to be a great way to discover where the hipsters are. I've long employed this trip to find the kind of coffee I like (shout out to Bicycle Coffee, Oakland) by searching "hipster" in the relevant category, but it turns out that Yelp can also serve up heat maps of hipster concentrations, based on the words used in reviews.
And they are very good.
Having reviewed these maps for the cities that I know, I can say that they are among the most accurate ever recordings of hipster density, all the way down to the little barely red pocket of hipsters at 28th and Burnside in Portland, a rather far-flung outpost in the cradle of hipster civilization.
So, here you go, Yelp's hipster maps (complete with faux-hip typeface) for Austin, Boston, Chicago, London, Los Angeles, New York, Paris, Philadelphia, San Diego, San Francisco, Seattle, Toronto, and Washington, DC.