Not Even Silicon Valley Escapes History
A revolution began here. And this is what is left over.
The precise center of Silicon Valley when it was the most important manufacturing region on Earth is now home to Super Space Self Storage.
I was able to map this location thanks to Richard E. Schmieder, who drove 6,000 miles around Silicon Valley, collecting the addresses of more than a thousand corporate headquarters, branch offices, restaurants, and hotels. He published this exhaustive niche Yellow Pages as Rich's Guide to Santa Clara County's Silicon Valley in 1983.
I discovered a copy of this rare book in Berkeley's library system and realized that it was a fantastic dataset: If I stuck all of the locations onto a map, I could reconstruct the Valley as it was 30 years ago, right before the Japanese manufacturers and the forces of globalization pulled and pushed chip production to East Asia. And though the idea of Silicon Valley does not allow for history, the place, itself, cannot escape it. The Valley we know now, the Paypal-Google-Facebook one, got built right on top of the original boom towns. 
In our Internet-happy present, it's easy to forget that up until the mid-1980s, Silicon Valley was an industrial landscape. Hundreds of manufacturers lined the streets of Sunnyvale, Palo Alto, Cupertino, Mountain View, and San Jose. This is the Silicon Valley when AMD, Apple, Applied Materials, Atari, Fairchild, Hewlett-Packard, Intel, National Semiconductor, Varian Associates, Xerox, and hundreds of other companies made their products right here in the Bay.
The Valley was as important a manufacturing center as Detroit or Pittsburgh were. This was the place making the foundational technology of the era, and it brought prosperity to the region. Between 1964 and 1984, Santa Clara County added 203,000 manufacturing jobs, according to a report by the Association of Bay Area Governments; 85 percent of them were in high-tech. Another economist found that Santa Clara County's manufacturing growth had driven the economic well-being of the entire Bay Area during that period. Without the growth of Valley manufacturing, the San Francisco and Oakland's economies would have severely suffered, not to mention the rest of the country's. This was the industrial heartland of America, even if it was nestled against the San Francisco Bay.
In other words, Rich's Guide, I realized, would let me map this first peak of Silicon Valley, the one that gave meaning to the term high-tech. With substantial help from my colleague on The Atlantic Wire, Philip Bump, we put this map together. If you worked in the Valley at the time, it should take you back to the days of Ampex, Varian Associates, and the Rusty Scupper. But there's plenty to see, even if you only know the area by reputation.
For example, you'll find Apple headquarters at 20525 Mariana Ave, just across De Anza Boulevard from the current HQ at 1 Infinite Loop. They were part of a little cluster of companies just off Interstate 280, south of the hottest action up closer to Highway 101. Most of the rest have not survived -- Braegen Corp., Iconix, International Memories, Tymshare, Four-Phase Systems. Yet these same people would have all visited the Peppermill Lounge for some 80s-"fern bar" refreshment.
After geocoding all these points -- i.e. finding all their latitudes and longitudes -- I could compute the average of all the locations on the map. In a meaningful sense, the spot was the very center of the corporate ecosystem that we call Silicon Valley in 1983.
My math says it's located in Sunnyvale, south of 101 between North Wolfe Road and the Lawrence Expressway at precisely 37.38260152 degrees north, 122.0094996784 degrees west.
As luck would have it, this spot was smack in the middle of the headquarters of chipmaker and long-time Intel rival, Advanced Micro Devices, or AMD, in a complex centered at 901 Thompson Place.
This is what it looks like now, in its self-storage incarnation: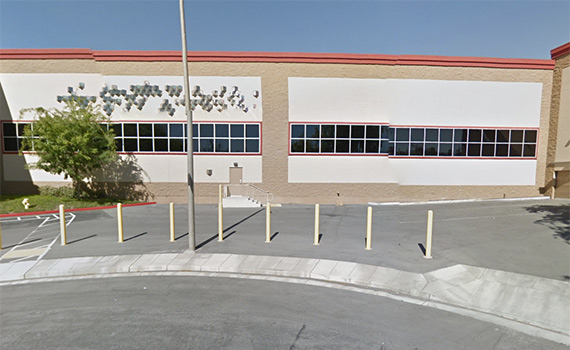 We can see the back of the Super Space Self-Storage. There is no sign of the AMD buildings that once stood here.
I had to see for myself what had become of the center of the Valley, so I got in my car and headed across the Bay Bridge and down the peninsula. I'd use the single block surrounding the center of the old Valley to understand what had happened to this place not as a footnote in a history of the computing industry, but as a landscape. What I found was second-generation suburbia with a far more complex story than the standard Silicon Valley narrative about cherry orchards and the making of a glorious revolution.
As always, it was sunny in Sunnyvale. I got off at the exit for Moffett Field, the set of facilities that made this area a hotbed of early aerospace (and therefore computing) activity. After a few lights I made a left onto the Central Expressway and zoomed past endless town homes and old suburbs onto Arques Avenue. I parked the car at the Super Space Self-Storage, took out the memorial sign I'd printed, and walked across the street to take some wide-angle photographs of the building.
There was nothing particularly interesting about it. Like most self-storage locations, the building is blocky and windowless. It's nestled in-between a massive Lowe's and Cheetah's, "a small neighborhood strip club," according to a Google Plus review. As I snapped away, a single pedestrian walked by, an Asian man in khakis and a tucked-in, short-sleeved collared shirt. Traffic came and went: a Camry, a Jeep, a Subaru, big white van. Just another part of the great California carscape, it would seem.
As I walked back across the street, I found a big guy walking towards me. "Well, you got our curiosity piqued," he said, pointing to my camera. He had a soul patch and wore an checked Oxford monogrammed with the name of the self-storage place. All-in, he looked like Ted Danson, if Danson lifted weights. This was Geoffrey Taylor, manager of the facility.
I explained myself to him, trying not to sound completely ridiculous. "And so, I calculated that, in 1983, this was the center of Silicon Valley, and I came down here to see it --"
"And you ended up at a Superfund site," he said.
I did?
"This was AMD," Taylor continued. "They manufactured chips here."
I went inside and met his staff, enjoying the air conditioning. They told me about the building's many amenities for the discerning self-storage customer: climate-control, special locks, security systems. "Who needs this type of service?" I asked.
"I'd say 75 percent of our clientele is transient engineers working for the tech companies," Taylor told me. They were almost all from India and east Asia.
I left my car in the parking lot and headed southeast. Past Cheetah's, there was a large office building being leased by two commercial real-estate brokers named Dixie Divine and Doug Ferrari.
The businesses around were an odd melange: a Bank of America, two auto-body shops, the 5-Star School for Music, a semiconductor company called Synerchip, a signal-processing designer called Teledyne Cougar, and Sri Ananda Bhavan, a bustling south Indian restaurant. At the corner of Deguine Drive, a newly built retail space sat empty, looking almost precisely like the sad, shuttered video stores you see all over America.
Deguine was wide. The landscaping was so regular, it mocked the idea of nature. Tree, door, tree. Here and there, a knoll created by a bulldozer, sodded with grass from Oregon.
Empty office buildings and parking lots abounded. A couple gardeners wandered among them, working solo, carrying chemicals on their backs, ensuring the for-lease billboards looked nice.
Heading up Deguine, I noticed that there was a steady stream of pedestrian traffic, largely older Asian women. Many were headed to and from Nine Star University, a Chinese medicine school located in an old office building it shares with an acupuncturist, a sports medicine group, and the China-focused Christian Leadership Institute.
Right next door, Nine Star operates California University Silicon Valley, which caters to IT professionals with the pitch that you'll learn "from instructors with titles like CEO, CIO, CFO, COO, Sr Manager, Marketing SVP, Venture Fund Manager and other real industry positions." In a clear sign about who they're selling education to, their domain CUSV.org autoforwards to CUSV.in, as in India. The university certainly has Silicon Valley-level chutzpah. "Whether you are considering Harvard, Stanford, Santa Clara University, MIT, Georgia Tech, San Jose State, UCLA, or for that matter any other top grad school," they declare, "you will want to choose CUSV to ensure your competitive advantage and maximize the NPV of your expected career income stream."
Across the street, UMC, a very large Taiwanese semiconductor foundry, has its North American headquarters. I had to admire the symmetry of its building. Humans could only besmirch it.
At the next intersection, I turned left. Across the street, a man talked on a cell phone in front of BioCurious, "your Bay Area hackerspace for biotech." What are they working on? For example: "We are attempting to insert these genes into other algae, Arabidopsis and Petunias to build a glow-in-the-dark plants. Avatar, here we come!" So that's going on there.
To the right of BioCurious, there was a batterymaker for motorcycles called Shorai. To the left, a Mediterranean restaurant called the Agape Grill. If you were to have a gyro at Agape under the tall, tall palm trees or a Coca-Cola umbrella, you would look across the street at the America Chinese Evangelical Seminary, as well as the Sacred Logos Resource Center, which appears to be another Christian evangelical group catering to Chinese immigrants. These buildings were all beige with glass doors, one and a half floors. There are hundreds of thousands of structures that look just like these across the region and nation.
Another massive empty office building stood out for its hexagonal dark glass atrium and the sculpture just outside its locked doors, which looked like a sundial set permanently to noon.
I found all the white people in a packed parking lot attached to a strange looking building that turned out to be a climbing gym and yoga studio called Planet Granite. I watched toned people go in and out for a few minutes, and then headed back towards my car, cutting through the loading area at the back of Lowe's.
Between the massive blank walls, I was the only human around.
I could not parse this neighborhood. It didn't make sense.
When I got home, I found out that for 30 years, and all around the block I'd surveyed, an intense remediation effort was underway. For as long as I've been alive, there has been a plume of chemicals underground at that spot, extending 4,000 feet north, up past 101. Everyone hoped these chemicals wouldn't make it to the water supply before it could be pumped out and treated.
In contemporary descriptions of Silicon Valley as it was being built, every writer seems to note the absence of smoke stacks. A miracle! A clean industry! A better industrial capitalism!
The aesthetic was intentional. These factories of the future were designed to look like buildings on a college campus, which is to say, Stanford. The Stanford Industrial Park (later, the Stanford Research Park) set the visual standard from its founding in 1951 onward. There were rules governing which parts of the industrial apparatus could be visible, so as not to detract from the idea that these were locations for scholars, not laborers.
"Companies had to follow strict building codes, which included 'complete concealment' of things like smokestacks, generators, transformers, ducts, storage tanks, and air conditioning equipment," environmental historian Aaron Sachs wrote in 1999.
Other municipalities wanted to encourage similar developments, and as Sachs concludes, "Stanford Industrial Park essentially replicated itself several times over--each time spurring the construction of new expressways and strip malls in neighboring areas." What began as Stanford dean and Silicon Valley godfather Fred Terman's dream to build "a community of technical scholars" in pleasant industrial parks became the architectural standard for the entire high-tech manufacturing world.
But the manicured look and feel had consequences. Storage tanks were placed underground, out of sight and out of mind. Until suddenly, in 1981, people in south San Jose living near Fairchild Semiconductor and IBM realized they were drinking water contaminated by the two firms' manufacturing plants.
That touched off a search to see if similar leaks were occurring at other sites. "Anyone who looked for leaks found them," Will Bruhns of the San Francisco Bay Regional Water Quality Board told the San Francisco Chronicle in 2004. The final count found that 75 of the 96 underground tanks in the south Bay had contaminated the ground and/or water around them.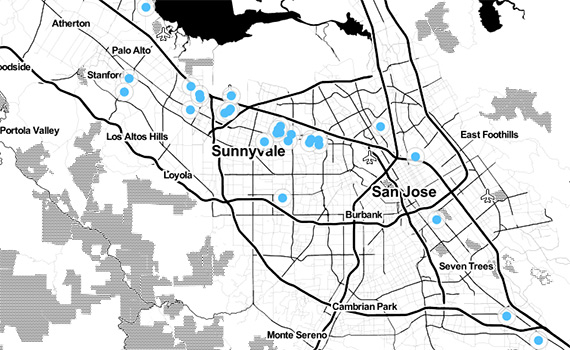 Before the leaks were found, underground chemical storage was not regulated by any level of government. Or, in the current industry parlance, the semiconductor industry was regulating itself. And their methods for preventing and detecting leaks of known toxic chemicals were recklessly, absurdly ineffective.
Planet Granite is located on a site contaminated by Philips Semiconductor. So is Lowe's. The empty octagonal glass building is a TRW Microwave Superfund site. I'd been walking on a paved-over environmental disaster zone, colonized by whoever wanted to benefit from lower leasing prices and a lack of NIMBY opponents.
There are six Superfund sites within a couple miles where the Super Space Self-Storage now stands. Shockingly, Santa Clara County has more Superfund sites than any other county in the nation. By comparison, the entire state of Illinois only has 13.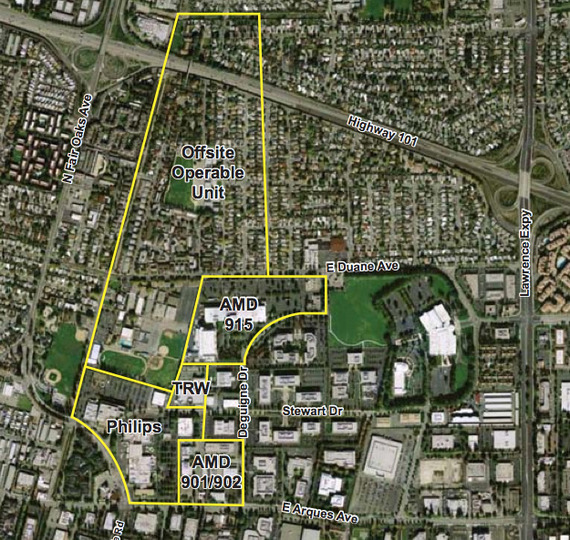 The contamination at the AMD site at Thompson is not the worst in the Valley. Toxic chemicals only reached aquifers near the surface, and did not hit the public water supply. Nonetheless, beginning in July of 1983 with the discovery of volatile organic compounds in both soil and water at the site, remediation began. The main contaminant of concern was tricholoroethene (TCE). Leaking acid neutralization systems were removed along with 217 cubic yards of soil. Groundwater was pumped out and through filtration systems with first one well, then three, then five. Thirty-eight more wells pump the commingled contamination from the AMD, Phillips, and TRW Microwave sites. They run roughly east-west along Duane Avenue, Carmel Avenue, Alvarado Avenue, and Highway 101. All this water gets released back into the water table after it is treated.
The cleanup effort is massive. From the mid-1980s through 2008, 231 million gallons of groundwater were pumped up and treated. Beginning in 2005 (around the time the company sold the site to the people who built Super Space Self Storage), AMD began to deploy in-situ bioremediation, after realizing that the efficiency of the groundwater pumping system was declining. In essence, molasses (literally, molasses) is pumped into the subsurface to feed colonies of microbes, who can degrade TCE into harmless compounds.
The California Regional Water Quality Control Board judged the bioremediation a success; it has managed to reduce TCE concentrations by 90 percent, though the process is on-going, according to the lead project manager with the Water Board, Max Shahbacian.
"They are doing whatever they can," Shahbacian told me. "Some of that contamination you can't capture. Some is stuck to the clay soils. Some has gone off site. They are cleaning it up as best they can."
"A lot of the big companies, except the big oil companies, they are pretty good about cleaning up," he said. "They've been cleaning this site for many years and they're going to continue to doing that."
So, 30 years after the contamination was discovered in July 1983, it's probable that what remains of the plume of chemicals is unlikely to contaminate groundwater. A victory for our age.
And in the meantime, the people who live here are creating the lives they want on the carcass of this old industrial system, whether that's DIY biotech labs, south Indian restaurants, California University Silicon Valley, rock climbing gyms, or Chinese evangelical training facilities.
What we see here is not simple suburbia. This is a landscape that industrialists, government regulators, and city planners sacrificed to create the computer industry that we know today. It has as much in common with a coal mine or the Port of Oakland as it does with Levittown or Google's campus. All of which should lead us to a simple conclusion: the Silicon Valley of today is a post-industrial landscape, like the lofts near downtowns across the country, like Lansing, Michigan, like Williamsburg, like Portland's Pearl District.
What we see now is a surreal imitation of the suburban industrial parks and commercial spaces of yesteryear. They're built atop the past's mistakes, erasing them from our maps and eyes.
And yet, as the humans eat dosas and climb fake mountains and learn acupuncture and buy lap dances, beneath the asphalt and concrete, the microbes eat toxic waste sweetened with molasses, cleaning up our mistakes.
A revolution began here. And this is what's left over.