A Map of American Electricity Use in 1921
Power was not evenly distributed.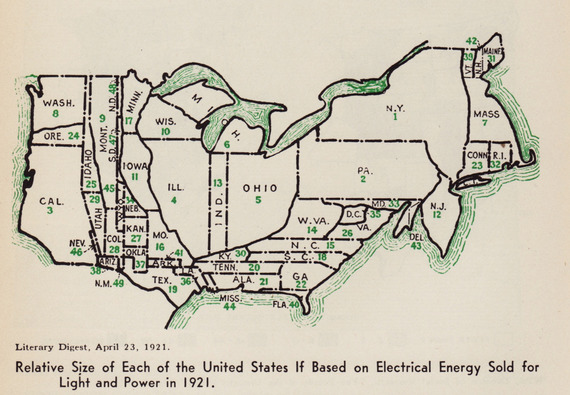 It's hard to remember a time when not everyone had electricity, and when those that did used it sparingly. That's because from about 1900 to 1965 or so, the electric power industry pushed the price of electricity down and down and down. By the end of their incredible technological (and corporate) surge, electricity cost very little and Americans used a lot of it.
And because it was cheap and the government had intervened in rural areas through outfits like the Tennessee Valley Authority, electricity became very evenly distributed across the land (though, even now, the price per kilowatt hour varies substantially).
In 1921, however, that was not true. The use of electricity did not basically track population. Instead, there were wide regional variations in access to and consumption electricity. In essence, the entire south used relatively less electricity than the rest of the country.
Nowadays, that's not true.  Texas, Florida, Alabama, and Georgia are all among the top ten states for electricity production (along with Pennsylvania, Illinois, California, New York, Washington, and Ohio). Which is not what you see on the map above. Credit low prices, air conditioning, and increasing populations.