The Wait We Carry: Using Data Visualization to Capture America's Failure to Take Care of Its Veterans
Some 600,000 veterans have seen their disability-benefit claims founder unanswered for more than 125 days.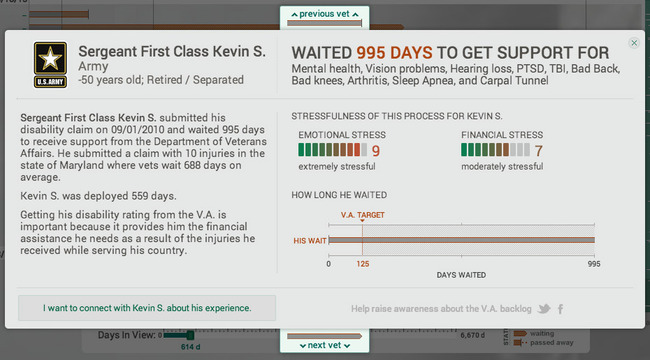 To explore "The Wait We Carry," a new data-visualization project from Iraq and Afghanistan Veterans of America (IAVA), is to confront bureaucratic failure writ large. Scroll through the graph charting more than 1,700 veterans; see their names, ages, the lengths of their deployments; and then see, highlighted in burnt orange, just how many days they've been waiting to receive there benefits -- an average of 558 days.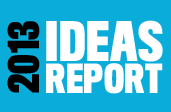 Modest ideas that can change the world.
See full coverage
The backlog for veterans' benefits claims is a mounting, slow-moving tragedy. Some 600,000 claims are "backlogged," meaning they've sat around waiting, unanswered, literally in a pile somewhere, for more than 125 days. A statement provided to the New York Times in May said that Eric Shinseki, the secretary of veteran's affairs, "is confident that we will end the backlog in 2015." To which The Daily Show's Jon Stewart replied: "In only two more years, they are hoping to have you wait only four more months."
"The Wait We Carry," which was funded by the Knight Foundation, is designed to communicate both the enormity of the problem and what the delay means in more human terms, by sharing the stories of individual veterans. For many of the veterans, visitors to the site can actually click on the words "I want to connect with this vet about his experience" and get in touch to learn more about his or her situation, send words of comfort and support, and perhaps even help.
"Something that we hear over and over again from veterans, unfortunately, is that they feel like they're not being heard," Aminatou Sow of the IAVA, who led the project's team, told me. "The point of the data visualization for us was to give our members a way for them to tell use their stories." 
As the visualization opens, a little film plays: "Imagine this is you," the text reads. In the background, a war scene unfolds, followed by images of disabled veterans. A slide appears, asking you, "How long should you have to wait before the country you served provides the help it promised?" You the select what you think to be an appropriate amount of time, perhaps a few days. Then the screen goes black, and the words read: "Over 500,000 veterans are waiting 344 days on average for the support they need."
"A lot of people are blown away by how long that is -- the fact that service-members have to wait for over a year," says Sow. 
Roughly 2.5 million Americans have served in Iraq or Afghanistan, but many civilian Americans might not know more than a handful. "There's just this huge civilian/service-member divide," says Sow. She hopes that "The Wait We Carry" can be a plank in a bridge across that divide.