The Philosophy of Netflix: Its Chief Content Officer Champions Storytelling
Expect more original programming, including a show set in a women's prison.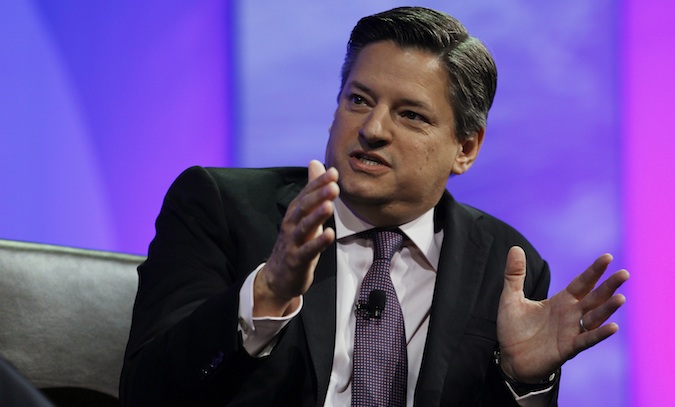 Reuters

As the chief content officer at Netflix, Ted Sarandos decides what's available to the  subscribers who pay $7.99 per month to stream content -- and in so doing, shapes the competitive environment for his counterparts at places as diverse as NBC, HBO, and YouTube. In a Friday panel on disrupting the traditional model of television, he spoke about the comparative advantages that Netflix enjoys and the philosophy he brings to developing original shows. Below are selected excerpts from his remarks. I've added the subheads for organizational purposes.

Platforms Are Converging

The way we compete with HBO and everybody else is for attention. Internally we call it moments of truth: when you sit down on your couch and you pick up your remote, which one do you pick up, the one that controls the cable channels, or the one that streams Netflix through your tv? John Skipper said that about a third of the people who watch programming on ESPN are watching it on a device. What's interesting is that about two-thirds of people watching Netflix do it on their television. So the convergence is here and it's happening both ways.

Escaping the Shackles of Prime Time

If you're programming a 24 hour network, your several hours of prime time are extremely precious. Everything in those periods has to work. That's why there's a 70 percent failure rate for series. If you're writing a tv show and trying to get it on a network, the chances of breaking through are slim.

Because of the economics of our business... the threshold comes down and more shows can get picked up, because it's highly personalized. People talk about Hemlock Grove not being as successful as House of Cards. We've picked up Hemlock Grove for a second season because it's wildly successful in its demographic. You can support a show for [smaller niches] -- you just control the economics of how it's made. That way you can have a lot more choice and a lot more tastes, all being made at the same time, because you don't have the preciousness of the three hours.

What Netflix Doesn't Do

We don't do anything that's live. We don't do sports, we don't do news, we don't do competition shows.

We don't do anything that is over at some point.

Beholden to the Audience

We're direct to consumers. We're not distributed by anyone. One of the downfalls of television is that it has developed into a completely "b to b" business. It really isn't beholden to the audience anymore. That's why so few programs are great. Netflix is a direct to consumer relationship. If you don't like Netflix, you click one button, you cancel and you're done. And you don't have to buy any bundle or any more content. You choose, is this worth $8 a month to me or not? Even ESPN, the most successful cable network, two-thirds of their revenue comes from distribution fees, not advertising. That lowers the bar tremendously on what they have to deliver to the audience. At least advertising rates regulate success among the audience. People are tuning in.

What original programming is next?

We've been very focused over the last two years on developing original programming, like House of Cards. Right now we're shooting the second season. In two weeks we'll debut Orange Is the New Black. That is created by Jenji Kohan, who created Weeds at Showtime, and is a really fantastic show. Before it even premiered, we bought a second season because we were so enthusiastic about the 13 hours we have. This is a true story. It takes place in a women's prison in upstate New York. It's the same mix of drama and comedy that made Weeds a great show.

We have a series we bought out of the UK staring Ricky Gervais. We have a second season of Lilyhammer coming up which is a really interesting show. It was made for Norwegian television. It's 65 percent in Norwegian, 35 percent in English.  You might think of it as a very regional show, but it actually works for us everywhere around the globe -- we bough it everywhere outside Norway and the UK, and we have fast follow in those markets. And it's all great storytelling.

How will they be released?

We actually do something quite different than television. We release the entire season at one time. So if you want to watch one episode, or 13 episodes at once, you can watch at your leisure. But we don't have any emphasis on watching Wednesday night at 8. We don't advertise, and everybody else does. So what we're going to do, we're gonna aggregate an audience for House of Cards over a very long period. And we have regression models that tell us, based on the first hour of viewing, how successful that show's going to be over the life of its license.

The web allows interactivity with the audience. Are Netflix shows ever going to be interactive?

Interactive viewing of a presidential debate is fantastic. Or a sporting event, fantastic. When I want to watch storytelling, when a professional storyteller is going to tell me a story, why change the ending? Why hire him if I'm going to change the ending? I never really understood that attraction.

I can tell you one thing that I love about where we're at today. With House of Cards, when we put up all 13 episodes, I had every tv executive in Hollywood tell me what a moronic thing I was doing. "You have to stretch it out, you have to leave people waiting for more, you have to keep them hungry."
 
Managed dissatisfaction is what I call it.

The other critique was, how are you going to make changes from the reaction to the first episode? And I say that I'm so glad that i don't get to change it, because that's a very powerful thing.

Do you give any direction to the people making your shows?

We're active in the process of creating, but with a very soft touch. We give data input in terms of casting, you know, this person is more popular than that person among our viewers, so all else being equal, go this way. But we give very few creative notes. We use our business instincts and our data to pick the best people to tell the best stories, and then let them do it. If you watch Arrested Development on Netflix, you'll notice it is 15 episodes, which is an unusual episode count, every episode is an unusual running time, because I don't think there is a uniform time in which you must tell stories... People tell me a comedy should be 22 minutes. That's ridiculous.