Stay Away From 'Digital Pixie Dust'
And other lessons from entrepreneur gurus Steve and Jean Case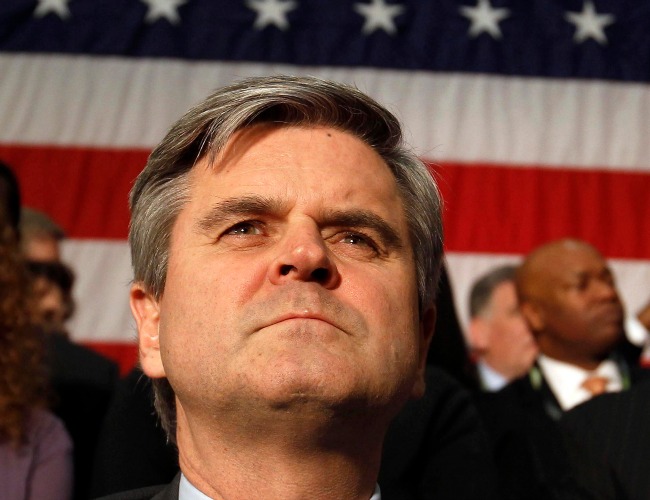 Larry Downing/Reuters
"The United States is fundamentally a start-up nation," AOL founder Steve Case declared during an interview on Thursday at the Aspen Ideas Festival. Quickly sketching America as the historical land of the free and the home of the entrepreneurial, he reinforced the theme of all his work. "If we're going to remain the leader of the free world, we're going to have to have the leading economy. If we're going to have the leading economy, we have to have the most innovative economy, and if we're going to have an innovative economy, we have to have an entrepreneurial economy."
If this sounds like typical Silicon Valley-style dogma, these insights into how start-up spirit could drive the country's economy forward might surprise you:
Zipcar looks a lot like the Internet. Talking about his recent investments in car-sharing companies and similar ventures, Case described the structural similarities between the rise of resource-sharing platforms and the rise of the Internet. "With Zipcar, eight or nine years ago, no one really knew what car-sharing was .... It seemed to us that in the long run, maybe in the mid-run, in cities, most people probably don't really need a car. They might share a car, but up until the advent of the Internet. ... it wasn't possible to share a car in a remote, secure kind of way. We think a lot of things that people previously wanted to own, they're now fine to share. It's a little bit like we felt with AOL and the Internet 25 years ago -- it was still kind of fringe-y. You need to have more of a built-to-last, not built-to-flip, mindset."
Fortune 500 companies weren't built in a day. "With AOL, it was more than a decade before we hit our stride, and people in the '90s were like, 'Ahh, the Internet came out of nowhere! The Internet was an overnight success!' No, it wasn't. We were like struggling for like a decade with nobody paying attention," Case said.
People don't like taking risks with other people's money, which hobbles non-profit organizations. Jean Case, Steve's wife and the CEO of their joint venture, the Case Foundation, said, "Many of you are funders in this room, and if nothing else, you're taxpayers. When people think they're spending other people's money, they tend to be much more careful with it. It's really up to us as the funders and the taxpayers to say, 'We want impact, we need innovation, the old models aren't working in this new world.' Give the people we work with permission to try new things and take risks."
Silicon Valley is the new Detroit -- let's hope it doesn't lose its "entrepreneurial mojo." Case argued, "Sixty years ago, seventy years ago, Detroit was Silicon Valley. It was the most innovative place in our country, for what was the most disruptive technology at the time. Detroit rocked. It drove American manufacturing to new heights. It was the envy of the world. In the last 50 years, Detroit's lost more than 50 percent of its population, and its in free-fall, about to go bankrupt. Why? It lost its entrepreneurial mojo. We need to make sure the United States learns by its last 250 years of being a start-up nation and doesn't fall into this Detroit [pattern]."
Despite the appeal of quick tips like these, pushing the economy forward will not be an easy task. Educating the next generation of inventors is one necessary step toward setting the economy up for success, but we've had mixed results in improving STEM education and other crucial areas, Case said. He thinks some solutions are available, though. "I personally am a believer that while technology isn't the answer, and when people have a technology bias and think they can solve a problem just by kind of waving some digital pixie dust on the problem and it will miraculously go away -- that's sort of naïve. But I think technology is part of a solution, and I'm actually encouraged by some of the developments you're seeing around active learning platforms."
Perhaps this is the most important word-to-the-wise for aspiring entrepreneurs and economic policymakers: Whether for philosophical reasons, structural reasons, or allergy reasons, stay away from that digital pixie dust.