Petitioners Challenge Obama to 'Live, Public Debate With Edward Snowden'
Another battle in the fight to burnish the whistle-blower's image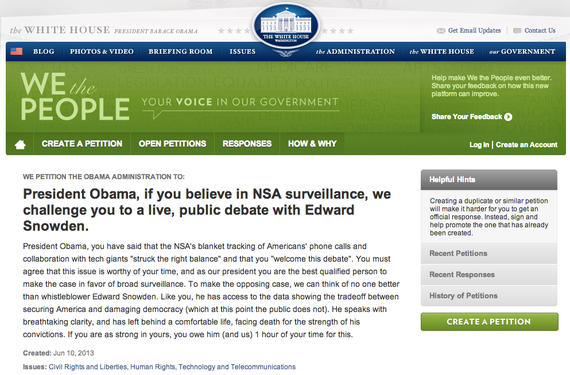 In September 2011, the White House launched a new initiative: We the People, a digital petition forum that lets citizens share their desires for and with the Executive branch through an age-old mechanism: the signature. We the People might be best known for the awesomeness that transpired after a petition that the government "begin construction of a death star by 2016." But it's useful, too, as a kind of communications platform: the people and their government, interacting.
I mention that because, as of today, there's a new "We the People" petition on whitehouse.gov. And this one has to do, unsurprisingly, with the NSA surveillance practices revealed last week. "President Obama," the petition reads, "if you believe in NSA surveillance, we challenge you to a live, public debate with Edward Snowden."
Here's the full text:
President Obama, you have said that the NSA's blanket tracking of Americans' phone calls and collaboration with tech giants "struck the right balance" and that you "welcome this debate". You must agree that this issue is worthy of your time, and as our president you are the best qualified person to make the case in favor of broad surveillance. To make the opposing case, we can think of no one better than whistleblower Edward Snowden. Like you, he has access to the data showing the tradeoff between securing America and damaging democracy (which at this point the public does not). He speaks with breathtaking clarity, and has left behind a comfortable life, facing death for the strength of his convictions. If you are as strong in yours, you owe him (and us) 1 hour of your time for this.
The petition is new, so -- as of this writing -- it has only 42 signatures of the 100,000 required, per We the People rules, to get a response from the White House. But it's worth noting, meanwhile, the symbolism of the petition itself. As debate swirls as to whether Snowden will face extradition and its consequences, the broader question is how history's many drafts will tell Snowden's story -- and how the public will come to see him as a result. Is he a hero or a villain? Did he threaten national security ... or, did he do, as Daniel Ellsberg put it, "an enormous service, incalculable service" to the nation?
The answer may well be "all of the above"; meanwhile, Snowden and his supporters have an interest in burnishing his image. And one way to do that is to propose the idea that a whistle-blower should have equal footing -- rhetorically, and otherwise -- with the President of the United States.