No Big Deal, Just a Giant Hole in the Sun
An extensive coronal hole rotated toward Earth last week--and astronomers were there to capture it.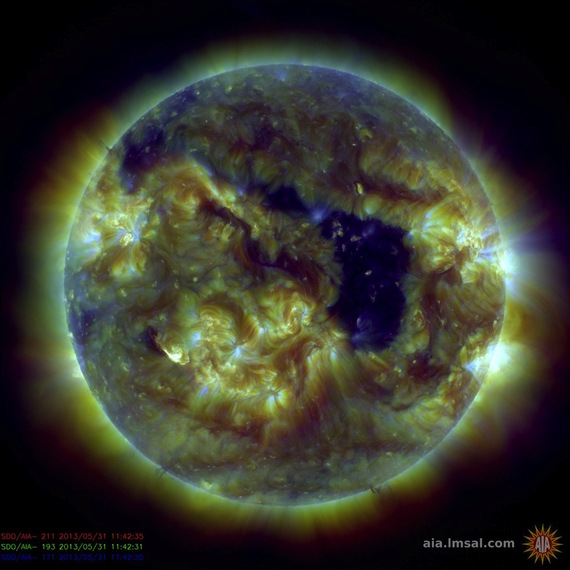 Coronal holes are areas on the sun's corona that are darker, lower-density, and (relatively) colder than the rest of the plasma on the surface of our nearest star. They're the source of the kind of solar wind gusts that carry solar particles out to our magnetosphere and beyond, causing auroras (and, less awesomely, geomagnetic storms) here on Earth.
When coronal holes are captured in extreme ultraviolet light images, they reveal themselves as dark spots that appear, to human eyes, to be plasma voids.
Well, last week -- between May 28 and 31 -- one of those coronal holes rotated toward Earth. It was a big one: "one of the largest," NASA says, "we have seen in a year or more." And the Solar Dynamics Observatory's Atmospheric Imaging Assembly, fortunately, got a shot of the thing. Above, via a combination of three wavelengths of UV light, is an image of the hole. It's pretty gorgeous, as holes go.
Beyond the photo, though, what effects will the coronal hole's rotation Earth-ward have on those of us living on Earth? Not much, for better or for worse. The solar wind streams that coronal holes can cause generally take two to three days to travel to our planet, so we've likely already experienced the anticlimactic effects of this particular hole. And while coronal holes are more likely to affect Earth after they've rotated more than halfway around the visible hemisphere of the sun -- which was the case with this guy -- the most this one would have done, astronomers say, was to generate some aurora. A pretty harmless effect from, you know, a GIANT HOLE IN THE SUN.