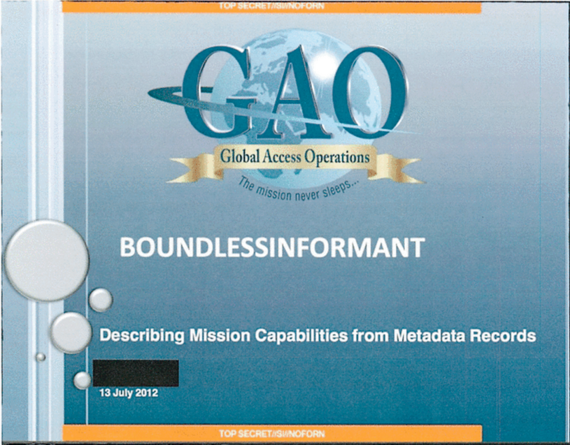 Screenshot of NSA slidedeck obtained by The Guardian
What does the NSA know, and how does it know it?
Just one of the many, many questions that has emerged again, and that has remained largely unanswered again, this week. And under the umbrella of that extensive question mark have been more discrete mysteries: How, actually, does the National Security Agency process the information it collects? How does it distinguish between international surveillance and domestic? And to what extent, when it comes to the surveillance it's been engaged in, does the agency convert the metadata it gathers into simply, you know, data?
New revelations published by (surprise!) The Guardian may shed some light on those questions. The NSA, Glenn Greenwald and Ewan MacAskill report, "has developed a powerful tool for recording and analyzing where its intelligence comes from." And that, in turn, they claim, raises questions about the agency's "repeated assurances to Congress that it cannot keep track of all the surveillance it performs on American communications."
The documents in question provide evidence of a data-mining tool with the Orwellian nickname of "Boundless Informant." The tool, according to a factsheet The Guardian obtained, "allows users to select a country on a map and view the metadata volume and select details about the collections against that country." It was designed, per one document, "to give NSA officials answers to questions like, 'What type of coverage do we have on country X' in 'near real-time by asking the SIGINT [signals intelligence] infrastructure.'"