Kickstarters of Yore: Mozart, Lady Liberty, Alexander Pope
"Hey guys, will ye funde my Kickstartere?'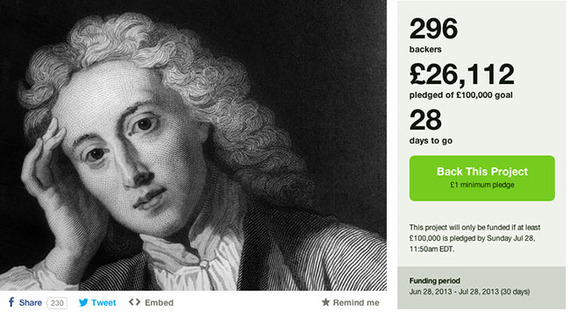 Kickstarter may be one of "the world's most innovative companies." It may be changing the way producers -- of art, of tech, of toys -- relate to their consumers. It may be a distinctly digital phenomenon: of the web, by the web, for the web.
But, for all that, Kickstarter is not totally new. In a lot of ways, in fact, it is very, very old.
At a talk at the Aspen Ideas Festival this afternoon, Kickstarter co-founder Perry Chen talked with Walter Isaacson about the historical roots of the Kickstarter model. It wasn't just the Medici or the Church that funded the arts, Chen said. Artists themselves have also looked to the crowd, directly, to get funding for their projects.
Alexander Pope, when he translated The Iliad from Greek to English, had a group of about 750 people who subscribed to the work, essentially micro-funding its publication, Chen said. And as a reward for effectively "backing" the project, "they got their names inscribed in the first edition." Mozart looked to a similar model to fund the composition of one of his concertos, Chen said. ("Actually, the first time he tried to fund it, he didn't raise the money" -- he had to try again the next year before successfully funding his work.) And the pedestal of the Statue of Liberty was funded by more than 100,000 people.
So Kickstarter's crowdfunding model, in other words, is neither as new nor as unique as it might seem. It represents an innovation in degree rather than kind. As Walter Isaacson summed it up: "This ain't a new idea; there's a long history of it."