India's Last Telegram Will Be Sent in July
The transformative technology will come to, yes, a FULL STOP.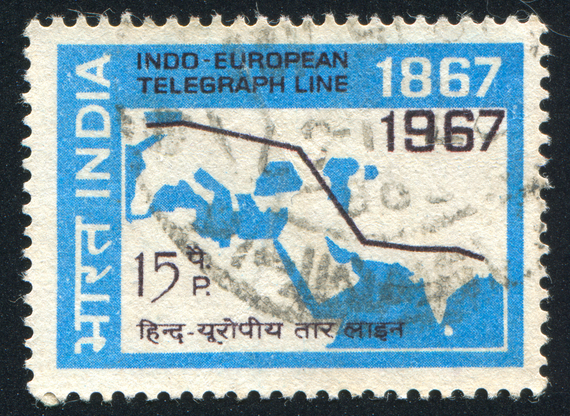 In 1850, the British inventor William O'Shaughnessy -- who would later become famous for his early experiments with medical cannabis -- sent a coded message over a telegraph line in India. His telegram would usher in a new age of communication in and for India, connecting the country in a way that had never before been possible.
Now, sometime on July 14, 2013, someone in India will have a dubious honor: he or she will send the country's last telegram. The Bharat Sanchar Nigam Limited, India's state-run telecom company, will shutter its telegram service, bringing the long era of Indian telegraphy from a dash ... to a full stop.
The shuttering comes seven years after Western Union ended its telegram service -- and nearly 170 years after Samuel Morse sent the United States's first telegraphic messages, between Washington and Baltimore, in 1844.
The shuttering of the service is not surprising. In a country that has quickly embraced, if not fully adopted, mobile technologies, the telegram has become largely redundant as a method of quick, long-distance communication. BSNL's telegram service had been losing money -- and lots of it -- for years. "We were incurring losses of over $23 million a year because SMS and smartphones have rendered this service redundant," Shamim Akhtar, general manager of BSNL's telegraph services, told the Christian Science Monitor.
And, indeed. As the Monitor notes:
At their peak in 1985, 60 million telegrams were being sent and received a year in India from 45,000 offices. Today, only 75 offices exist, though they are located in each of India's 671 districts through franchises. And an industry that once employed 12,500 people, today has only 998 workers.
Then again, though, a shrunken industry is not necessarily a dead industry. As V.A.N. Namboodiri, a spokesman for the union representing 250,000 employees of the state telecom, noted, telegrams "are still used by military personnel for official use and also for contacting their families from remote locations." Governments and banks still use them for official communication: in India, the Monitor reports, a whopping 65 percent of daily telegrams are sent by the government. And they're often used for legal communication and record-keeping, as well. 
Telegrams can also play a cultural role in India. "A number of telegrams are from runaway couples who marry secretly because their parents wouldn't let them marry in the wrong caste, class, or religion," the Monitor notes. The couples send telegrams not only to the families themselves, but also to the police and the National Human Rights Commission -- so that, if the family threatens violence against the unapproved marriage, there's a paper trail. The telegrams function, in this case, as a kind of insurance policy. 
Unions of the labor variety, given all that, have urged Indian telecom minister Kapil Sibal to keep the telegram service running, even as a shadow of its former self. "It is a valued service and should be kept as a skeleton service and preserved as a heritage," one union told The Hindu. But niche uses weren't enough to convince the BSNL to keep its doors -- and its telegraph lines -- open. The telegram service is a business. And like most businesses, an end to profitability means, simply an end. Or in this case: a STOP. 
Via @stevesilberman