Google: The Xbox One Is 'Terrible'; Bing: The Xbox One Is 'Amazing'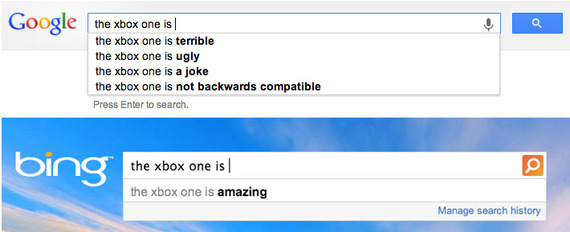 Here's a game: do a Google search for "the xbox one is." And then do a Bing search for the same thing. You'll likely get results like Twitterer @evlbzltyr did -- and like I did, too, to create the image above.
So, yes. A tale of two searches. It was the best of gaming consoles; it was the worst of gaming consoles.
But why is there such a divide between Google's search engine and the search engine owned by the creator of the Xbox One? Unclear. Microsoft says they did not tinker with the results. "We do not manually alter the results appearing in autosuggest," a Microsoft spokesperson told me. "Autosuggest uses several algorithms to anonymously analyze historical queries from users to generate the suggestions automatically." (Google's autocomplete, a Google spokesperson told me, works in a similar fashion.)
There could certainly be a brand-loyalty selection bias going on, with Bing users simply more likely to be Xbox fans. The discrepancy could also have to do with the fact that Google simply has more data to work with for its autocomplete results: According to comScore's May 2013 search rankings, Google has a 66.7 percent share of the U.S. marketplace, while Microsoft has 17.4 percent.
It could also have to do with the wording of this particular search. If you run the same query on Bing without the "the" -- "xbox one is" -- you get results that are much more aligned with Google's. With two additional top returns: "xbox one is going to fail," and "xbox one is watching you."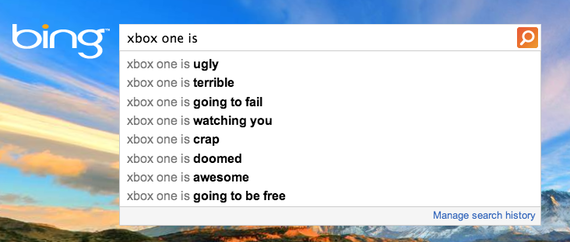 Via @burritojustice