Would You Send Your Kid to the 'Lego School'?
The heir of the Lego fortune is opening the Googleplex of international education.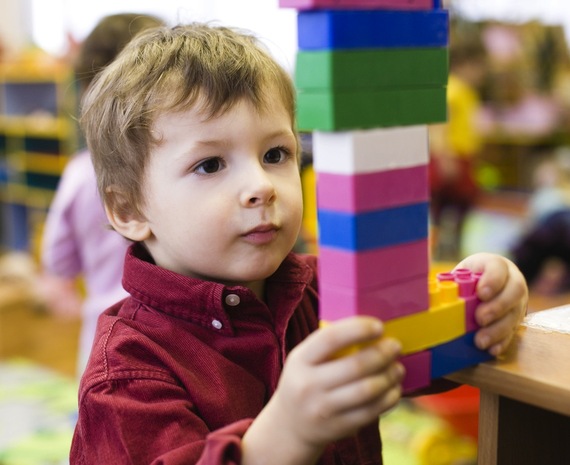 A tower of LEGOs (Shutterstock/
iordani
)
Kjeld Kirk Kristiansen is the billionaire grandson of the founder of Lego. He was born in the Danish town of Billund -- a rural municipality in Jutland that Copenhagen residents refer to as "hicksville" -- and has made it his mission, given his means, to turn the area into the "Capital of Children." In addition to sponsoring an airport, several community centers, a church, a theater, and a library in Billund, Kirk Kristiansen is also developing more kid-friendly fare: a parkour area. And an interactive park called the Dance Arch. And a playground filled with rubberized toys known as bObles. Oh, and a Lego house. Oh, and Legoland.
In August, however, Kirk Kristiansen will take an even bigger step toward developing a town that emphasizes its pint-sized citizens: He's opening a school. The International School of Billund will focus on inquiry-based, Montessori-style education. "Collaboration, problem solving, and learning through play are embedded into our learning philosophy," the school says of its curriculum, "and we believe that a fusion of these highly acknowledge learning methods mentioned above will strengten our students' ability to engage in life as creative, critical thinkers."
The campus will feature bicycle routes, learning labs, music studios, and playgrounds. And also, yes, lots of Legos. As the school explains of its approach to what it calls "Systematic Creativity,"
When the Lego system is used in a learning environment young people become creative, active and collaborative learners. They take ownership and are self-driven. They express their originality. They also learn from the interpreted experiences of other people as they share their ideas. They learn by reflecting on experiences and discussing how things work and they help each other to learn through the shared language of the brick.
Before you get too jealous of the children of Billund, though, it's worth noting that the school will still be ... a school. Students will learn, the school emphasizes, under standards set by the International Baccalaureate (IB) with the Danish school system. (The student body will likely be about half international and half Danish.) And the Billund school will be headed by the British physicist and international educator Richard Matthews, who has led several schools at different locations around the world. 
When it opens this summer, the school will accommodate 3-to-7-year-olds; by 2015, if all goes according to plan, it will expand to include 8-to-16-year-olds. Tuition for the school itself will also be, this being Denmark, subsidized by the government, which will pay 66 percent of school fees while parents pay the remainder. That works out to a per-kid charge of $517 US dollars a month -- less than what most U.S. private schools charge for tuition, but still a lot of Legos.
Via Inhabitat.