What the Man Who First Summited Everest Thought of the First American to Orbit Earth
Sir Edmund Hillary admired John Glenn more for his technical skill and poise than his courage.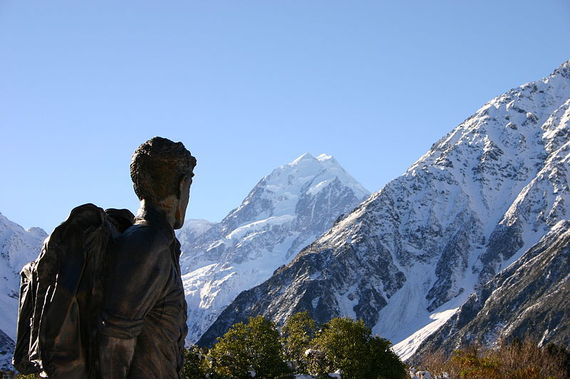 Sixty years ago this week, on May 29, 1953, Edmund Hillary of New Zealand and Sherpa Tenzing Norgay of Nepal became the first two humans to reach the highest point on Earth, the summit of Mount Everest. Of course, it wasn't long before humans were pushing up against an even higher-altitude frontier: space. In 1961, Yuri Gagarin became the first human to orbit the Earth. The next year, John Glenn became the first American to do so.
What did these men who had reached the highest ground think of those who had reached into the sky? In a 1974 recording, interviewer Howard Langer asked Hillary what he thought of Glenn (we won't know what he thought of Gagarin, nor what Norgay thought of either) and his answer is a lovely little passing-of-the-torch from one age of human exploration to another. What impresses Hillary, he tells Langer, is not Glenn's courage but his technical abilities. "There are many men who have the courage to do dramatic feats," he says in the interview below. "I don't think we have any shortage of men of this nature. But there are not too many who are able to carry out a feat like that with the calm, precision, and common sense that Glenn displayed."
I think for most of us, when we think of the men and women who have led humans to the edges of our planet and beyond, it is their nerves of steel that we admire. Whatever technical capabilities they had, those melt away in the foreground compared with their resolve. Hillary's perspective here strikes me not as that of a layman, an ordinary onlooker of our space race, but of a fellow professional. He knew that courage alone only gets you so far, and that his success -- like Glenn's -- was owed to their mastery of their craft.