Two Bits of Life-Getting-Better Tech News
America is not in decline! Latest evidence.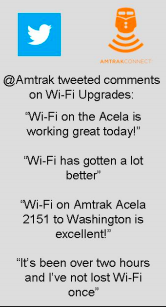 1) Amtrak suddenly has much better Wi-Fi service on some routes -- starting with the Acela I am taking right now from DC to NY. Of course I admit that griping about the speed and reliability of a (free) Wi-Fi service, on a moving train, epitomizes having too few real problems to gripe about. But until recently the service really had been so slow and unreliable that I wished Amtrak would not even advertise it. That way, people who got any connection at all would feel lucky, rather than people expecting connections staring in frustration at their screens.
Now, it seems
fast
! And still free. Impressive, and congrats.
2) Twitter introduces
two-step verification
. Good for Twitter! I won't lead you down the path of my 739 previous posts about why you really
should turn on
Google's free two-step verification system for your mail account and other online data. Instead I will simply refer you to the report released today by the
Commission on Theft of American Intellectual Property
, headed by former Ambassador/ Governor Jon Huntsman and former Director of National Intelligence Dennis Blair. If you read that and don't then turn on two-step protection, you are some kind of commie. Or terrorist. You have been warned.