The (Slow, Tentative) Greening of the GOP
House members like Rep. Kevin McCarthy are still avid fossil-fuel proponents, but they've begun to advocate for renewables, too.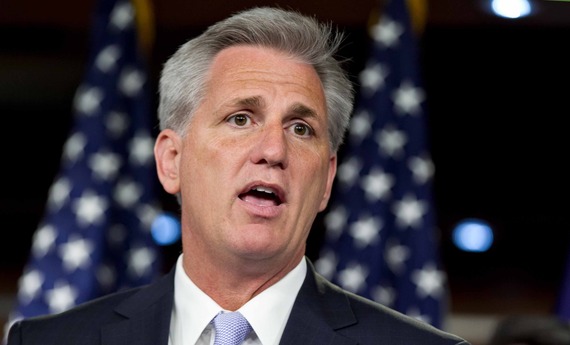 Kevin McCarthy (AP)
Each January, when Congress gavels a new session to order, the party in charge rolls out a series of bills laying out its political agenda -- and often they're predictable variations on well-worn themes. So it was when House Republicans launched the year with a bill that demanded President Obama present a plan to wipe out the federal deficit, one that slashed pay for federal workers, and one that sought to increase renewable energy.
(Record scratch.) Wait, what?
It's true: The same party that had just spent the previous year eviscerating Obama on the campaign trail for his green-energy agenda and the bankruptcy of Solyndra was now signaling that it was ready to go quietly, carefully greener. That message will be amplified this summer, when a squadron of House Republicans calling itself the House Energy Action Team -- yes, HEAT -- will hit town halls and TVs with a new set of energy talking points that, while still embracing oil and gas drilling, also say good things about energy efficiency and renewables.
The unlikely figure behind the effort -- the captain of the HEAT squad -- is Rep. Kevin McCarthy of California, the GOP whip whose district sits squarely in an oil patch. More than anyone, it was McCarthy who politicized energy as a standoff between "Drill, baby, drill" Republicans and Solyndra-loving, greenie liberals. Now he wants to use energy policy to help close that divide. The bill offered in January, which would boost hydropower in the Northwest, was a start.
"Elections happen in November; now is the time to govern," he told National Journal in his office, sitting beneath a portrait of Abraham Lincoln. Like McCarthy himself, the portrait isn't as traditional as you'd expect: It's Lincoln rendered in Jackson Pollock-esque black splotches. With campaign messaging over with, McCarthy wants to bring forth a series of small, modest energy bills that could attract some Democratic support. "Let's first enter the places that we're more united on. You crawl before you walk, and you walk before you run. If you start out and build a coalition and build trust on both sides, we can keep doing harder bills," he said.
That it's McCarthy assuming this role matters. Elected in 2006, he rocketed to the No. 3 position in House leadership after making himself indispensable to the party's campaign-planning operations in the 2010 Republican takeover of the House. Along with Rep. Paul Ryan of Wisconsin and House Majority Leader Eric Cantor of Virginia, McCarthy headed the Republican Party's swaggering Young Guns program, which spotlights otherwise obscure GOP challengers in congressional races.
McCarthy was essential in turning energy into a potent campaign issue for the party. Last year, he convened HEAT, bringing together rank-and-file Republicans for regular meetings on energy talking points. HEAT was on the case when gasoline prices spiked and Obama delayed approval of the Keystone XL oil pipeline, turning it into a lightning rod.
This spring, however, McCarthy has been holding regular meetings with HEAT members to strategize over energy efficiency, innovation, and technology ahead of another summer messaging drive. The Republicans will still offer plenty of talking points on the virtues of oil, gas, and coal, but they will also discuss such issues as the electric grid, infrastructure, distribution, energy efficiency, technological innovation--even renewable energy.
McCarthy points out that his home district tells the diverse story of American energy. He represents the city of Bakersfield, built over one of the largest oil reservoirs in the country (it was the setting of the movie There Will Be Blood). But Bakersfield, located in a sun-drenched valley on the edge of a desert, also has a thriving wind and solar industry. And the district is the home of SpaceX, the rocket-technology company founded by Elon Musk, the CEO of the electric-vehicle maker Tesla and a vocal advocate for clean-energy policy who has met and talked energy with McCarthy. "In my district, we have wind, solar, oil, geothermal, and nuclear," McCarthy said. "I've seen those be able to work together and create enough energy. That's a good policy for the rest of the country."
"I think it's smart," Republican strategist John Feehery said of McCarthy's new tactics. Republicans' aggressive campaigning against Obama's clean-energy agenda was "an overreaction," Feehery said. "It made us seem like enemies of the environment. The idea that government has absolutely no role, that the climate is absolutely not changing -- it's not smart," he said. "It's also not smart if you're talking about all the farmers in red states that make money off windmills. A lot of the base is there."
During the 2012 campaign, Mitt Romney made a point of attacking Obama's embrace of wind energy, pledging that if elected he'd end a long-standing production tax credit for wind power. But the strident opposition of all things renewable didn't go down well in swing districts -- or even with many Republicans. (Of the country's top 10 congressional districts with the highest capacity of wind-powered electricity, nine are represented by Republicans, including McCarthy.)
Still, the green shoots of renewable energy in the red GOP soil certainly don't mean the new messaging will abandon the party's long and profitable relationship with the fossil-fuel industry. McCarthy and his HEAT crew will continue to attack Obama for his long delay in approving Keystone. And while some Republicans might warm up to green energy, many in the party still question the science of climate change. Even there, while signaling that the party is no longer following a lockstep policy of denying global warming, McCarthy said that the GOP is "a big tent. We've got many views inside the conference on that." For a message-maker who hasn't hesitated to stick to rock-ribbed Republican staples in the past, it's a freshly nuanced view.