The Moore Tornado, as Seen From Space
A gif of the storm from more than 400 miles above gives a sense of the storm's location and scale.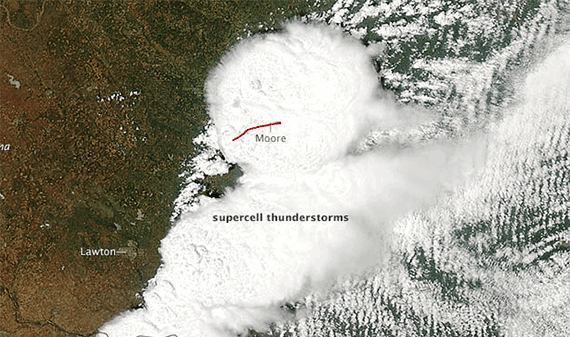 A camera on board NASA's Aqua spacecraft captured Oklahoma from more than 400 miles up at 2:40 pm local time yesterday, the same time the tornado warnings went out. Sixteen minutes later, the tornado touched down outside of Newcastle, and from there proceeded eastward through the heart of Moore. The red line shows the tornado's path. Lawton and the Red River (the boundary between Oklahoma and Texas) appear under clear skies to the south west. Above, we've meshed it in with a Google map of the area to give you a sense of the location and scale.
More images from NASA's satellites, including an hd video, are available here.