The 'Dance of the Planets' Is an Actual Thing, and It's Happening Now
Get out your tuxes, everyone! We're about to see "the closest grouping of three planets until January 2021."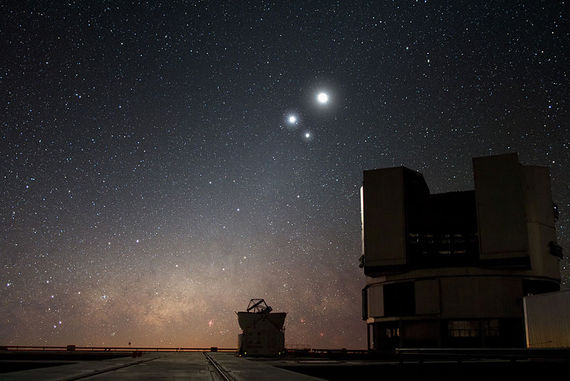 It's prom season -- for the planets.
Every couple of years, give or take, planets get together in the night sky in such a way that they seem to be aligned with each other. They seem to be, really -- from Earth's perspective -- shyly approaching each other, asking each other to dance. This planetary mixing-and-mingling is scientifically known as "planetary conjunction" ... but it's colloquially known, probably because of the corsages and the limos and the awkward dancing, the "Dance of the Planets."
We're about to have an especially rare and wonderful version of that dance. The night skies this week, provided they're clear, will reveal, yep, a triple conjunction -- a planetary crossover featuring the three brightest planets as seen from Earth: Mercury, Venus, and Jupiter. Between May 24 and May 29, the celestial trio will fit within a circle whose diameter is less than 5 degrees wide on the sky's dome. They'll dance around each other (as, ostensibly, "Feel This Moment" plays in the background).
Here's more on the planets' big night out:
The planets will be at their closest, with Jupiter and Venus just 1 degree apart, on 28 and 29 May. All three planets will form a straight line on 31 May as they gradually move apart from each other.

For US observers, the best time to look is also toward the western sky at twilight, with the three planets appearing close to the horizon. From 23 May, the three planets will be close enough together to be viewed through a pair of binoculars, forming a triangle on 24 May before drawing close and orbiting apart.
So, everyone, take your awkward photos of the planets' prom night now. This week's dance will be, Earth Sky notes, "the closest grouping of three planets until January 2021."
Via NASA.