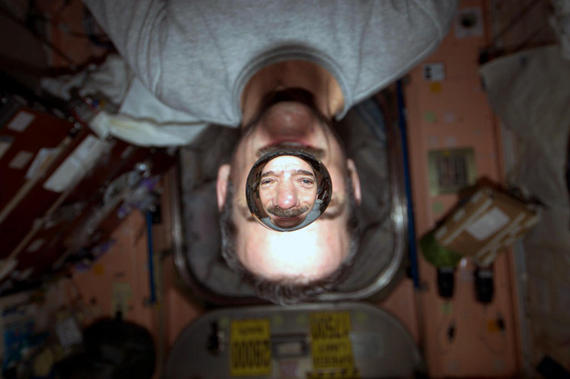 "Why are people so fascinated with @Cmdr_Hadfield?" the tweeter asked. "Can someone enlighten me?"
The answers were swift and sharp and unsurprising. "Dude, he's a frigging astronaut!" one replied. "Um, he's an astronaut?" another offered. "What else do you need?" Someone else explained things with a little more detail: "He's inspiring a generation of kids (my kids!) to grow up to be scientists & astronauts and not the Kardashians."
Chris Hadfield -- nom de tweet: @cmdr_hadfield -- has been doing more than inspiring people, though. He has also been entertaining them. And delighting them. He has chatted with Captain Kirk. He has covered Bowie. He has written his own music, and performed it. He has publicly celebrated Valentine's Day, and Easter, and St. Patrick's Day, and April Fool's. He has done a mind-boggling number of live chats and Q&As and video explainers. He has led Canada in a national sing-along. And all of these things have shared a remarkable predicate: They have been done, you know, from space. Hadfield has kept a running dialogue with Earth, documenting not just the numinous -- those amazing views! -- but also the mundane: the food. The fun. The exercise. The sleep. The tears. The bathroom situation.