'On Average, Humanity Has Built One Large Dam Every Day for the Last 130 Years'
Ours is a planet and a time deeply shaped by one species -- us.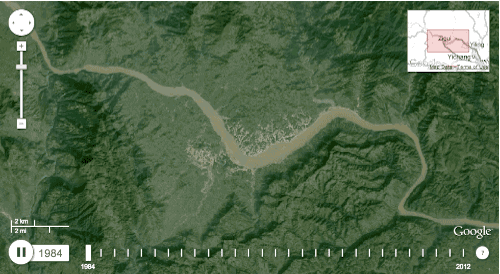 When we think about the dams that are reshaping our planet and its waterways, the projects that come to mind are the massive ones, such as the Three Gorges Dam in central China (as captured in the gif above).
This is one of the largest of *many*. According to a new report, there are now 48,000 "large" dams (15 meters or taller) around the planet, which works out to a construction rate of one new dam every single day over the last 130 years. Over email, Owen Gaffney of the International Geosphere-Biosphere Programme in Stockholm said that another 1,600 are currently under construction. As journalist David Biello wrote on Twitter, "You know what says Anthropocene like almost nothing else? Water."
Ours is a planet and a time deeply shaped by one species -- us. Our waterways bend and bloat to meet our needs. Our atmosphere bears the emissions wrought by our fossil-fuel habit. Even in the depths of the remotest jungles, scientists are now finding our buildings. We are, of course, not the first species to have a dramatic effect on our planet -- cyanobacteria beat us to that punch more than 2 billion years ago -- but we are the first to do so knowingly, and that makes a world of difference.