McKinsey Names the Most Over-Hyped (and Under-Hyped) Major Technologies Out There
McKinsey Global Institute disses renewable energy.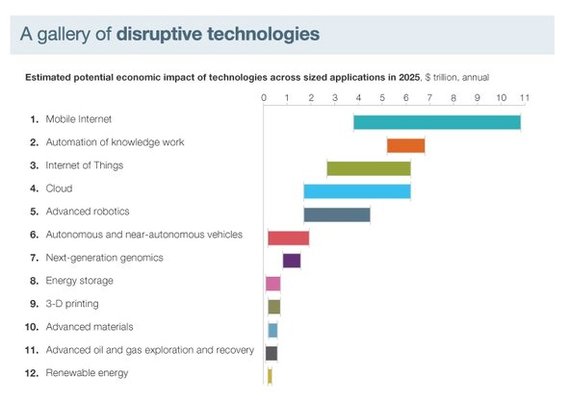 The McKinsey Global Institute specializes in measuring the unmeasurable. Who else has the audacity to appraise the Internet but MGI, who slapped a $8 trillion price tag on the global digital economy.
In its latest report, MGI set out to answer an even more unanswerable question: What will be the economic impact of the dozen most "disruptive" technologies, including utility devices that talk to each other, cars that drive themselves, and printers that can print printers? Their summary graph is the image that kicks off this post. In a sentence: There's mobile Internet, and then there's everything else.

But the chart I find most audacious (in a fun way) is MGI's brave effort to compare the hype surrounding their 12 "disruptive" industries with their estimation of how much that technology will contribute to the economy: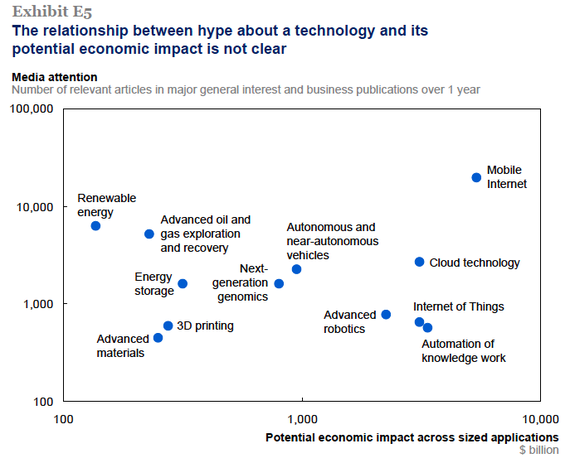 Since renewable energy has made it to the final Disruptive 12, it might be unfair to call it *the* most over-hyped technology ever (that would be Google Wave; or Segway; or Microsoft 8; or ...), especially since part of its contribution shows up in carbon levels rather than profit statements. But it does suggest that automation might deserve more attention.