Mars: The Immigrant Experience
An old folk song reminds us of what it once meant to leave home and never return.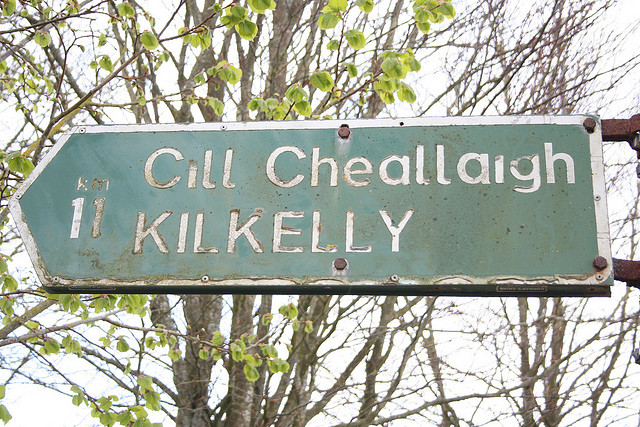 wmshc_kiwi/Flickr
We live in an age of close migrations. To leave home and country no longer represents a stark severance. Telephones, Skype, and Facetime bring us voices and faces; email and SMS deliver updates; and above all, we have visits. Flight can expeditiously convey today's emigrants back (barring political hurdles) to the bedside of a dying parent, the wedding of a sister, or to meet the newest member of the family. You can't be there for everything, and much is still missed, but for many, occasional visits home are now a normal feature of the immigrant experience.
Preparations are now under way for a migration to Mars from which there will be no return -- "it's named Mars One in part because what it offers is a one-way ticket," Megan Garber wrote recently here at The Atlantic. If all goes well, Mars One adventurers will be our first interplanetary migrants, and they will die on their new planet without ever going home again, much like the shipfuls of humans of another century.
Now, there is much that sets a Martian immigration apart from one that proceeded across the Atlantic, or other land and seas of this planet. For one, our Martian emissaries will not be arriving to a new home teaming with life and resources, to say nothing of other humans. They won't be setting down roots in a land of opportunity, bustling with the promise of a new nation, a growing economy. But, like earlier migrants, they won't be completely cut off either: an interplanetary Internet will keep them in touch with their Earth-bound friends and family.
I imagine their letters bouncing across the planetary divide, the latest in a long tradition of communications between motherland and adopted land. And there is perhaps no better encapsulation of that tradition, and the experience of immigrating without ever returning, than a folk song called "Kilkelly, Ireland," written by Peter Jones sometime in the 1980s.
As the story goes, in the late '70s or early '80s, Jones came across a stack of letters from his great-great-grandfather, Bryan Hunt, to his great-grandfather, John Hunt, in the latter half of the 19th century (some accounts use the last name Coyne). John had left the family home in Kilkelly, Ireland, in the 1850s, and the letters, which Bryan, who was illiterate, had dictated to the local schoolmaster, chronicled everything that John missed as the family grew and aged without him. Jones set lines from the letters to music, and the resulting song speaks to what it means to leave home for a new land, for good.
Kilkelly, Ireland, 18 and 60, my dear and loving son John
Your good friend the schoolmaster
Pat McNamara's so good as to write these words down.
Your brothers have all gone to find work in England,
the house is so empty and sad
The crop of potatoes is sorely infected,
a third to a half of them bad.
And your sister Brigid and Patrick O'Donnell
are going to be married in June.
Your mother says not to work on the railroad
and be sure to come on home soon.

Kilkelly, Ireland, 18 and 70, dear and loving son John
Hello to your Mrs and to your 4 children,
may they grow healthy and strong.
Michael has got in a wee bit of trouble,
I guess that he never will learn.
Because of the dampness there's no turf to speak of
and now we have nothing to burn.
And Brigid is happy, you named a child for her
and now she's got six of her own.
You say you found work, but you don't say
what kind or when you will be coming home.

Kilkelly, Ireland, 18 and 80, dear Michael and John, my sons
I'm sorry to give you the very sad news
that your dear old mother has gone.
We buried her down at the church in Kilkelly,
your brothers and Brigid were there.
You don't have to worry, she died very quickly,
remember her in your prayers.
And it's so good to hear that Michael's returning,
with money he's sure to buy land
For the crop has been poor and the people
are selling at any price that they can.

Kilkelly, Ireland, 18 and 90, my dear and loving son John
I guess that I must be close on to eighty,
it's thirty years since you're gone.
Because of all of the money you send me,
I'm still living out on my own.
Michael has built himself a fine house
and Brigid's daughters have grown.
Thank you for sending your family picture,
they're lovely young women and men.
You say that you might even come for a visit,
what joy to see you again.

Kilkelly, Ireland, 18 and 92, my dear brother John
I'm sorry that I didn't write sooner to tell you that father passed on.
He was living with Brigid, she says he was cheerful
and healthy right down to the end.
Ah, you should have seen him play with
the grandchildren of Pat McNamara, your friend.
And we buried him alongside of mother,
down at the Kilkelly churchyard.
He was a strong and a feisty old man,
considering his life was so hard.
And it's funny the way he kept talking about you,
he called for you in the end.
Oh, why don't you think about coming to visit,
we'd all love to see you again.
Update: Scott Weingart sends along a version that I had never heard before that I thought I would add here. It gets the dates wrong, but no matter -- the music is beautiful.