How to Not Be a Jerk When It's Raining
This umbrella wants to take the social strife out of bad weather.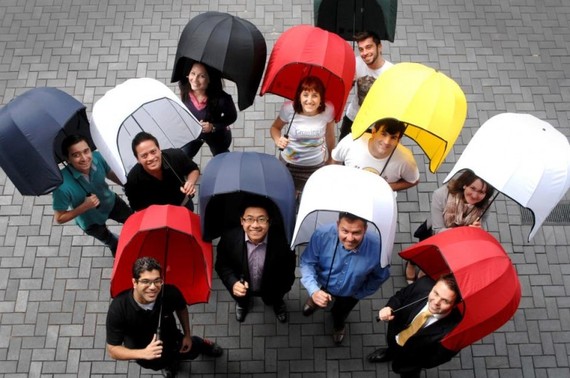 Umbrellas -- like rain itself, like a two-lane highway, like a four-piece pizza at a table for five -- tend to bring out the worst in us all. These made-for-one tools enforce, in spite of themselves, a terrible strain of meteorological Darwinism: they encourage us to prioritize ourselves over others in our effort to stay dry. Which leads to, among other things, The Awkward Umbrella Bump. And The Inadvertent-But-Still-Insulting Eye Poke. And The Escalator Cascade, when the umbrella of one person is perfectly angled to funnel rainwater onto the unfortunate rider below.
This stormy state of affairs, one entrepreneur believes, cannot stand.
Stephen Collier, the owner of Hospitality Umbrellas, has invented a new, more other-oriented form of an umbrella: a traditional umbrella, its edges angled down and strategically lengthened in the back. The Rainshader, as the thing is called, is meant to protect the user from the elements while also sitting low on the head -- so it's less apt to block the vision of the people around you. (Collier got the idea for the Rainshader at last year's Grand National horse race, after a soggy day spent umbrella-warring with the rest of the crowd.) Its shape -- tubular rather than round -- minimizes both the eye-poking and the water roll-off that can occur with traditional umbrellas.
The Rainshader is, to be sure, nerdy-looking: It is effectively a nylon mullet. But what you sacrifice in chicness, the umbrella promises, you will gain in karma. The thing's cut-away front -- meant to mimic the design of a motorcycle helmet -- offers the user cutouts where needed (in the front, for vision) and coverage where coverage is preferable (in the back). The Rainshader is also designed to prevent the bane of the umbrella user: the inside-out blowout when a gust of wind comes along.
So, basically: One small step for an umbrella, one giant leap for umbrellakind. "The basic design of the umbrella hasn't changed for centuries," Collier notes, "so the time is ripe to make it more suitable to modern settings."