How a Restaurant Menu Is Like a Website
Thoughts on digital media from ... Mario Batali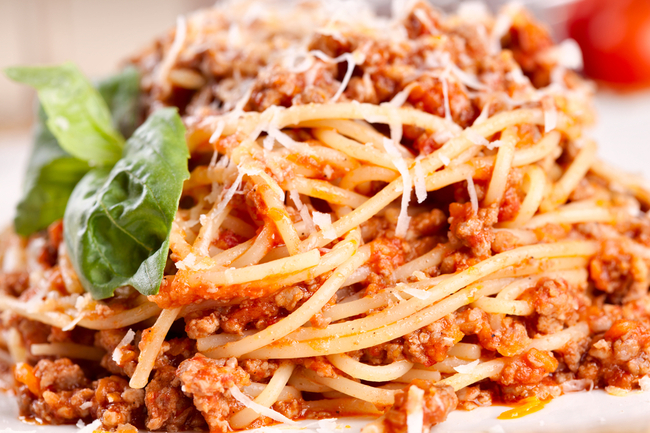 Mario Batali: chef, restaurateur, TV personality, author, neon-orange Crocs-wearer ... and digital strategist? Yep: This afternoon, during a conversation with Smitten Kitchen's Deb Perelman and The Atlantic's Corby Kummer at New York Ideas, a program of The Atlantic and the Aspen Institute, the celebrity chef discussed the digital side of the culinary world -- a phenomenon that has helped transform Batali from "chef" to "celebrity chef" to "multi-platform brand."
Batali, given his perch, sees several similarities between the culinary world and the media -- in that, for example, good ingredients matter. In that there's a kind of intimacy in the consumption of both kinds of products. In that, in particular, success in business all but depends on the loyalty of return customers.
"You have to stay on it," Batali said. "It's not like, 'Oh, there I am. I'm done. Now I can just cruise and let the restaurant go.'" On the contrary, he said, in the restaurant world, "what would be intuitive shortcuts are obviously the bad ideas. And a lot of people have squandered that opportunity by just going for fast money."
Perelman agreed: For her and for Smitten Kitchen, success has been a long game -- and a game of expectations. When it comes to websites, she said, whether it's hers or The Atlantic's, it's the overall brand presentation that matters. And it's the overall sense of hospitality -- what Kummer referred to as a kind of "maintenance with your readers." You're not sure exactly why people are coming to you, but you want to give them good stuff, and show them a good time, once they're there. "In the end, what's at the top of the page when you go there?" Perelman said. You might like the individual work you've come across -- on Facebook, on Twitter, on Tumblr -- that happens to live on the site ... but that fleeting enthusiasm may not convert passers-by into regular visitors. One cool recipe found on Tumblr might not win Perelman a loyal reader, just as an Atlantic story discovered on Facebook might not turn someone into a subscriber.
So it's the overall presentation -- the probabilistic brand, as suggested by the website -- that matters. And that's largely because, whether you're talking about a website or a restaurant, a cookbook or an app, you're building a relationship. Kummer mentioned Julia Child and her famous ability to remove the intimidation factor from cooking. "There was nothing snooty or condescending about her, ever," Kummer said. Instead, Child offered her readers and viewers "comforting and comfortable instructions," giving advice that "took you and the food extremely seriously at the same time."
Perelman, in her way, does the same thing, trying to offer an inviting environment -- a digital kitchen table -- to her readers. As part of that, she makes a point of featuring her best stuff prominently in order to maximize the potential of the drive-by visit. "With my website," Perelman said, "I'm always thinking about 'what's on the top of the page?' If you'd never heard of me, is it something that would make you stay?"
So, then. How, exactly, do you maximize your site's stickiness? How do you create a space that will not only lure people in, but convince them to hang out with you for a while?
One way Batali suggested: think of a website like a menu. You want a menu to explain what you're about, but also to intrigue people and delight them. You want it to be familiar ... but also a little bit mysterious. Grounded, but flirty.
So across his restaurants' menus, Batali pointed out, he generally makes a point of including one item: ravioli. And also linguini, and also spaghetti. Foods that read "traditional" -- or at least "understandable." And that pasta-shaped nod to familiarity actually frees Batali up to be more experimental with the rest of his menu. A potential customer might say, Batali pointed out, "I don't know what the hell the rest of this stuff is, but they have linguini, so I'm going in."
The consummate celebrity chef -- the Iron Chef, the intellectual chef, the experimental chef -- has purposely not chosen, he said, "to make everything ephemeral or ethereal or out-of-touch." The classic pastas are the stuff that's familiar to people -- the stuff that will convince them that, no matter what other manner of wackiness may be on your menu, this is, at its core, a classic Italian restaurant. So he offers a standard linguini alle vongole, Batali said, "not because I do it any better" than anyone else, but because "I do a pretty good job at it."
Which is enough. And that tacit promise of familiarity draws customers in and keeps them around -- yep, "just like a great top-page line."