Chart: Where Yahoo's Tumblr Ranks Next to Twitter, Instagram, and Pinterest
Charting the growth of the big social networks that aren't Facebook.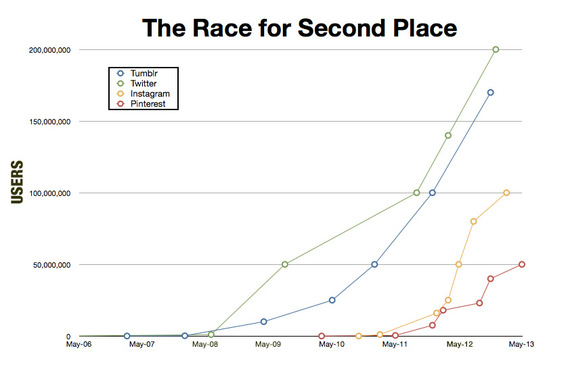 Yahoo announced they will acquire Tumblr for $1.1 billion this afternoon. The news comes about a year after Facebook snatched up the hot startup Instagram. In a post-Facebook world, that leaves two large independent social networks: Twitter and Pinterest, the oldest and youngest in the group, respectively.
I wanted to get a sense of the relative growth of these companies through time, so I put together this chart. DISCLAIMER: it's really hard to get exact numbers on these companies and even harder to get exact times for exact numbers. I used company announcements, stats geeks inferences, and some good old Business Insider aggregations. That is to say, the quality of the numbers varies here, too. So, take this all with a grain of salt, and know that while the curves you see are generally correct, this only a rough approximation.
Looking at the chart, you can see the remarkable success that all of these companies have had getting to 50 million users, even though their usage models are all very different. Twitter's the largest, Tumblr's second, and Instagram is third. But Instagram's growth stands out: building on the social graphs generated by earlier networks (and with a great product), they were in the big leagues within months, not years. Pinterest's graph looks a little different, but it's worth noting, the Pinterest and Tumblr numbers are the shakiest, and Pinterest is still early in exploring its own potential.
And just for some perspective, Facebook is more than five times larger than all these services and about twice as big as all of them combined.