Reuters
The right way to understand the potential of unconventional fuels like methane hydrates and tight oil is to closely examine their production rates and their prices. If these fuels can be produced at large scales and profitable prices, they very well might influence geopolitics and economics in the ways that Charles C. Mann speculates in his recent Atlantic cover story. If they cannot, then it truly doesn't matter how much of those resources may exist underground and in the ocean floor.
Unfortunately Mann offers precious little data on price or production rates.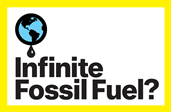 A debate on the future of energy
Read more
If Mann's data on methane hydrates is correct, then Japan's experiment so far has taken 10 years and $700 million to produce four million cubic feet of gas, which is worth about $16,000 at today's U.S. gas prices, or about $50,000 at today's prices for imported LNG in Japan. At this point, it is an enormously expensive experimental pilot project, and nothing more. We do not yet know when it might be able to recover commercial volumes of gas, or at what rate, or at what price. We have no reason to believe that if commercial quantities are recoverable by 2018 as Japan hopes--which seems incredibly optimistic--that the price of that gas will be competitive with imported LNG.