Touring the Largest Active Landfill in America
As we approached the site, the scale of the landfill became more clear, a massive trash mountain looming on the right side of the freeway, blocking the sun.
On a visit delayed by a long stretch of rain the day before, Venue drove east from downtown Los Angeles to visit the Puente Hills landfill--the nation's largest active municipal dump--near the city of Whittier.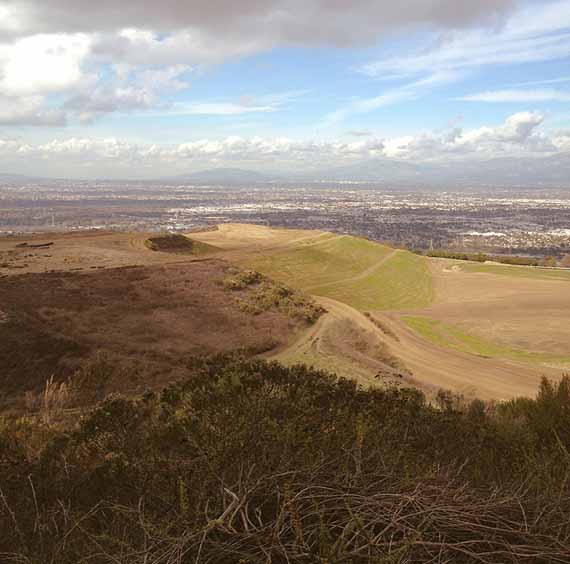 An astonishing and monumental act of landform construction, Puente Hills is scheduled to close in October 2013, to be replaced by the much larger and geographically far more remote Mesquite Regional Landfill, two-hundred miles southeast in the Imperial Valley.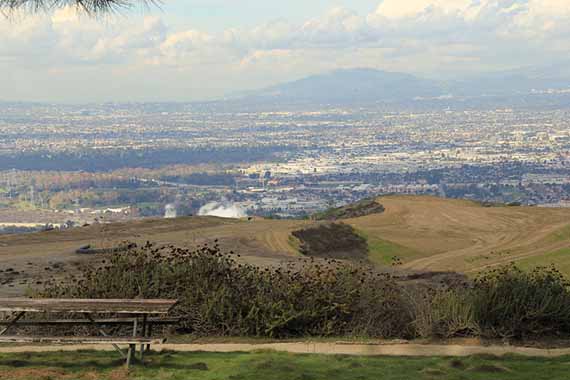 As we approached the site, the scale of the landfill became more clear, and the rhythm of its expansion was also evident in the traffic all around us, as dump trucks bumped and rumbled down the highway off-ramp, all on their way to add mass to the trash mountain looming on the right side of the freeway, blocking the sun.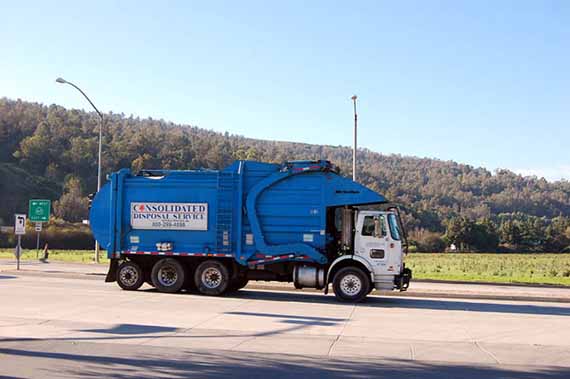 At the entrance to the dump sits the unassuming two-story headquarters of the Los Angeles County Sanitation Districts. Basil Hewitt, a public information officer, met us there to escort us up the mountain in his minivan.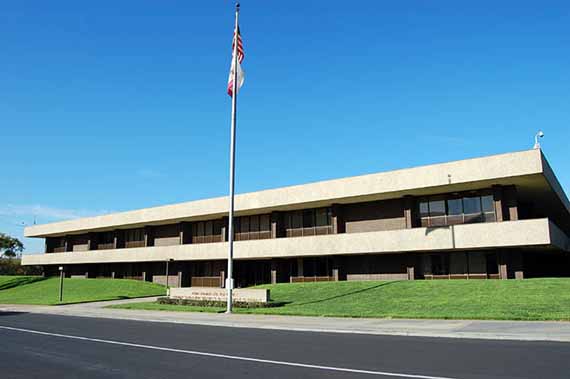 Over the next few hours, Hewitt patiently answered our many questions about the site's history, its design, and its impending closure, while good-humoredly tolerating our recurring expressions of awe at just how unearthly a place Puente Hills can be.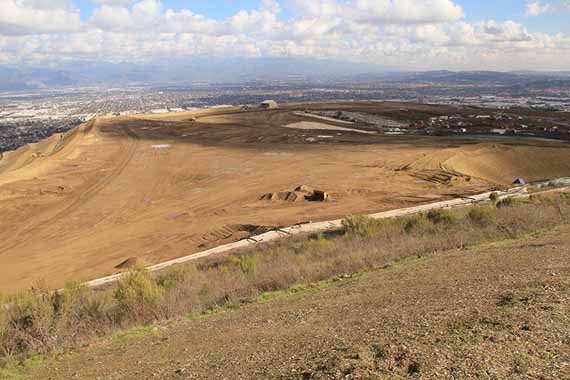 The landfill opened in 1957, and was taken over by the Sanitation Districts in 1970. It sits on a 1,365 site, half of which is devoted to a buffer zone and wildlife preserve, leaving an area roughly the size of New York City's Central Park to receive one third of Los Angeles County's trash.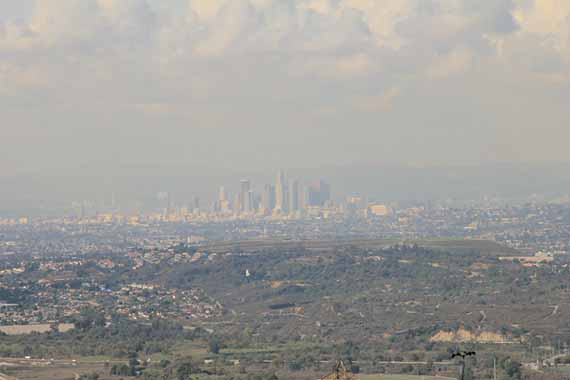 Over the past three decades, Hewitt told us, Puente Hills has received nearly 130 million tons of garbage. As Edward Hume writes in his excellent book, Garbology: Our Dirty Love Affair with Trash, this is a hard quantity to visualize. He offers the following analogies to convey its truly monumental scale:
Here's one way to picture it: If Puente Hills were an elephant burial ground, its tonnage would represent about 15 million deceased pachyderms--equivalent to every living elephant on earth, times twenty. If it were an automobile burial ground, it could hold every car produced in America for the past fifteen years.
What began as a small municipal dump, filling in a canyon on the edge of the San Gabriel Valley (acting literally as "landfill") has turned, over four decades, into a mountain-building exercise.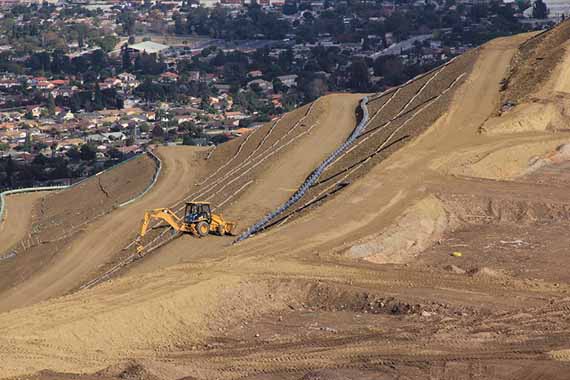 Hewitt told us that Puente Hills now rises to the height of a forty-story building, meaning, as Hume notes, that if the landfill was a high-rise, "it would be among the twenty tallest skyscrapers in Los Angeles, beating out the MGM Tower, Fox Plaza, and Los Angeles City Hall."
For quite some time, the garbage mountain of Puente Hills has been rising above its surrounding terrain, resembling nothing more than a huge and eerily modern version of an ancient tell--those giant mounds in the Middle Eastern deserts that mark where once-might cities rose and fell, and that now lie bured and broken beneath the sands.
We headed upward in the minivan, stopping to learn how the weigh station worked. Pulled over, we watched as trucks rolled up, paused on the gigantic scale (Puente Hills currently charges $38 a ton), then coughed and belched their way further up the hillside.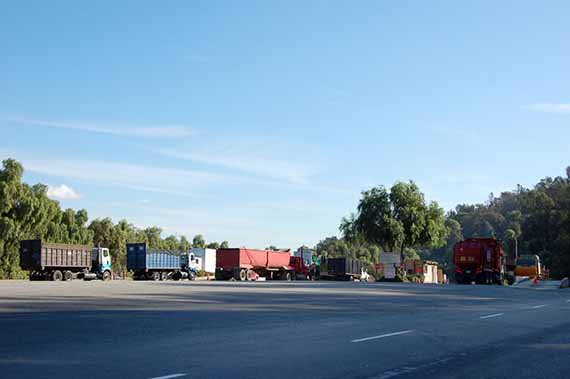 As he started the minivan back up, Hewitt made the fascinating observation that just a few years ago, this line of trucks would have been significantly longer, backed up sometimes all the way to freeway off-ramp. Toward the end of 2007, all of a sudden, Hewitt told us, "Puente Hills was like a ghost town. People who had worked here for forty years had never seen anything like it."
From a peak of 1,900 trucks per day in summer 2007, thirty or forty of which would be loaded with construction debris, Puente Hills' traffic decreased to only 400 trucks a day by the end of the year. "When it first happened, we didn't know what the heck was going on," Hewitt explained. "We're not economists, but, in retrospect, we figured out something was up in December 2007, and all those banks didn't start to fail until fall 2008."
Had the Puente Hills landfill called it back in 2007, when the U.S. was on the verge of the Great Recession, perhaps we'd all be singing the praises of garbology as economic indicator.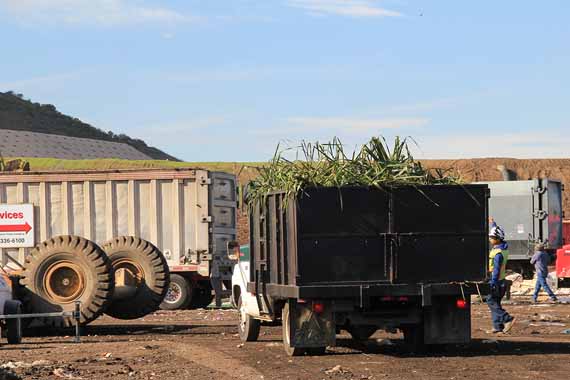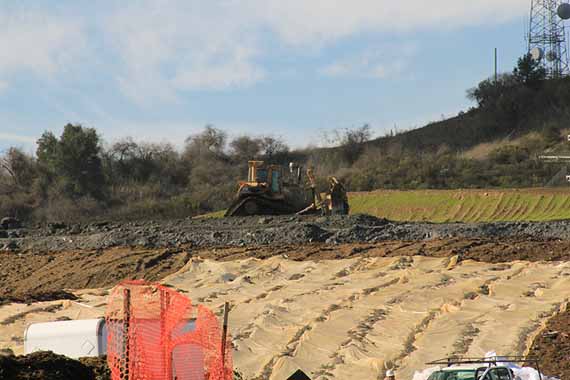 From the weigh station onwards, the road bed sits on trash: "You can tell," Hewitt explained, "because trash is not homogenous, so you'll get differential settling, and the road will give you a little of a roller coaster at Disneyland-type ride."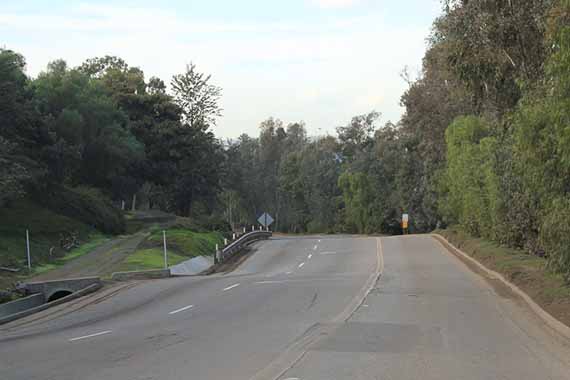 If the bumpy ride was exciting, things at the active dumping site were more chaotic still. Because of the rain the day before, the working surface had become slippery and operations were confined to a "winter day" footprint--a smaller-than-usual area, given grip with a layer of crushed asphalt.
Hewitt, otherwise an extremely low-key and calm presence, became quite agitated as we tried to maneuver between dump trucks, compacting machines, and piles of shredded green waste. "This is not good!" was his repeated refrain, as heavy equipment backed up toward us without warning.
His alarm was justified: in Garbology, Hume notes that eight landfill workers nationwide died in 2010, and that the risk of "drop-off"--the chance that some of the twenty to thirty feet of uncompacted trash that builds up each day could start to slide, tipping them off the edge of the mountain altogether--is omnipresent.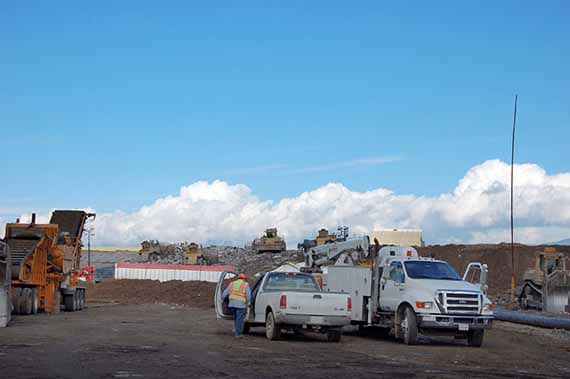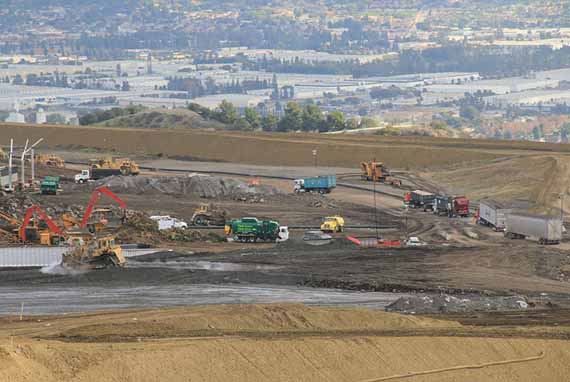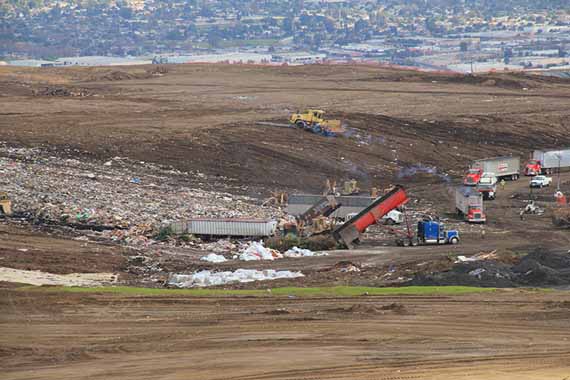 On a normal day, Hewitt told us, the active dumping site at the top of Puente Hills is usually about an acre in area, and twenty feet deep. It's called a cell--not, as Edward Hume writes, "in the prison-block sense, but more akin to the tiny biological unit, many thousands of which are needed to create a single, whole organism." In other words, the garbage pile that the bulldozers and graders push, compact, and sculpt each day, is a landfill building block--a brick in the pyramid of trash that is Puente Hills.
The resulting "fill plan," designed by the Sanitation Districts's waste engineers and staked out afresh each day, informs the particular topography that the heavy machinery massaging the trash are trying to achieve. Down to its cell slopes and road patterns, the landfill is an entirely managed and manufactured terrain, a shape calculated in advance and then sculpted, incrementally, with every shift of every machine.
Hewitt's description of a mountain-building logic formed of "cells" could not help but remind us of historians Martin Bressani and Robert Jan van Pelt's discussion of 19th-century architect Eugène Viollet le Duc--designer of, among other things, the plinth or artificial hill upon which the Statue of Liberty now stands.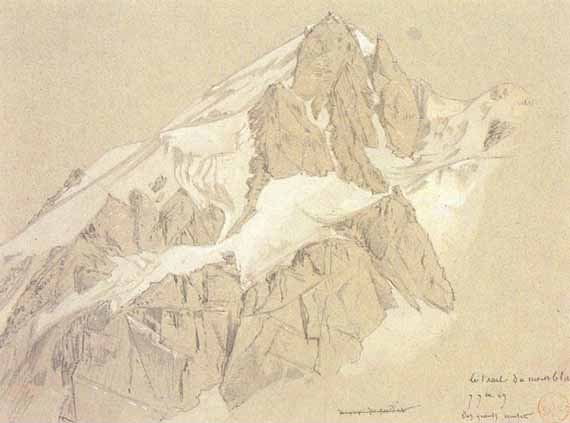 Sketch of Mont Blanc by Eugène Viollet-le-Duc; for more on Viollet-le-Duc's mountain-building analyses, from the perspective of a geologist, see Michael Welland's blog Through the Sandglass.
Viollet-le-Duc, as Bressani and Jan van Pelt explain, was inspired by the "structural network" of Mont Blanc to develop an architecture based upon crystal forms, employing "lifelong observations into mountain formation" as his chosen method of research.
His sketches are often extraordinary, analyzing mountain peaks, slopes, and even glaciers for their formal, geometric qualities, looking for what he called "the great crystalline system" underlying it all.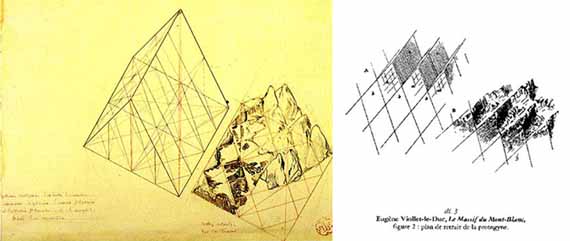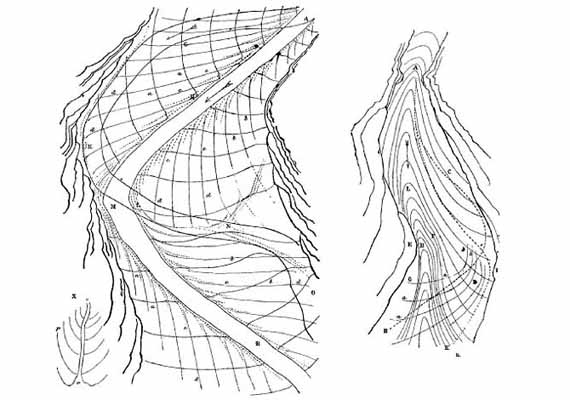 Further analytic sketches of Mont Blanc and its glaciers by Eugène Viollet-le-Duc.
Bressani and Jan van Pelt's description of Viollet-le-Duc's opening chapter, which analyzes the geological processes behind the creation of Mont Blanc in architectural terms, is worth quoting at length:
An expanded mass of soft granite (protogine) below the earth's thick surface erupted through the crystalline crust above, producing a domical rock formation sprouting out of a buttonhole-shape slit. As it slowly cooled and crystallized, this gigantic mass of granite progressively shrank and retreated. According to Viollet-le-Duc, the subtraction process followed a very precise rhombohedral prismatic pattern consistent throughout the whole. Mont Blanc thus acts as one huge crystal formation--every edge, every peak and aiguille follows a geodesic structure. The pattern creates a network of cells, a type of formation that Viollet-le-Duc found also at the micro level in glacial formation. This hexagonal configuration, based upon the equilateral triangle, proved the most fundamental and consistent principle of organization within Viollet-le-Duc's late writings and architecture.
It would seem that a similarly analytic study of the mountain-building logic behind Puente Hills could be done here in greater Los Angeles, treating this astonishingly massive artificial landform as its Mont Blanc: held in place and given shape by methane pipes, geotextiles, concrete roads, and carefully choreographed "cells" of daily growth, and, in every sense, a work of architecture.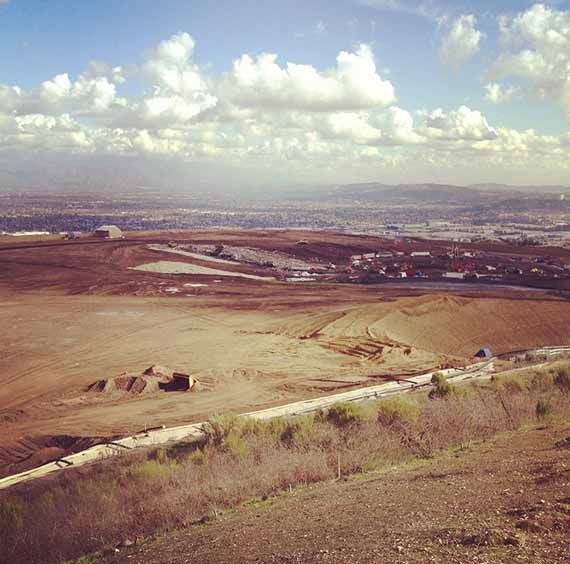 Puente Hills' daily construction cycle ends at 5 p.m.--or whenever the daily intake limit of 13,000 tons has been reached, which, before the recession, would happen as early as 1 p.m.--at which point, its machine operators use laser-guided markers to level the top of the mound, and then cover it with a twelve-inch layer of clean dirt and green waste.
That daily blanket, explains Hewitt, stops "vectors" from scavenging--primary rats, but also flies and coyotes--and is what makes Puente Hills a sanitary landfill.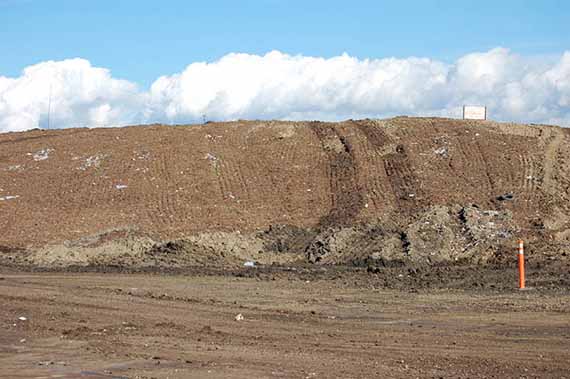 In addition to the active cell, its traffic jam of heavy machinery and dump trucks, and a pile of green waste and clean dirt for the sanitary layer, Hewitt told us of the twin banes of landfill construction: siloxanes, a chemical found in many hair gels, mousses, and conditioners, which pits the equipment, and, surprisingly, tires:
We collect tires, and we have to shred them before we bury them, because we found out if we bury them without shredding them they kind of float up and burst through our cover and our liners.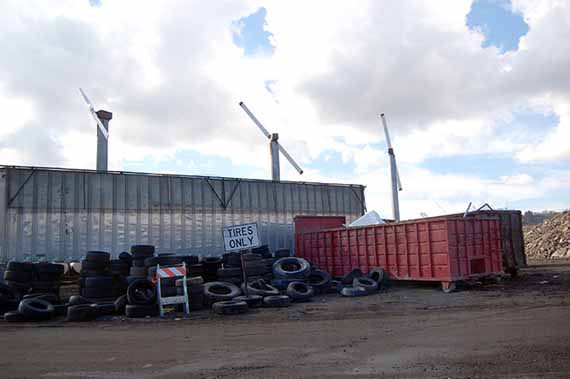 We step out of the minivan for a moment, making Hewitt even more uneasy, and are immediately struck by the site's lack of stink. It smells like trash, of course, but it's really only as bad as the early-stage rot of a full domestic garbage bag. "In January," Hewitt tells us, "it actually smells really quite nice, because of all the mulched-up Christmas trees."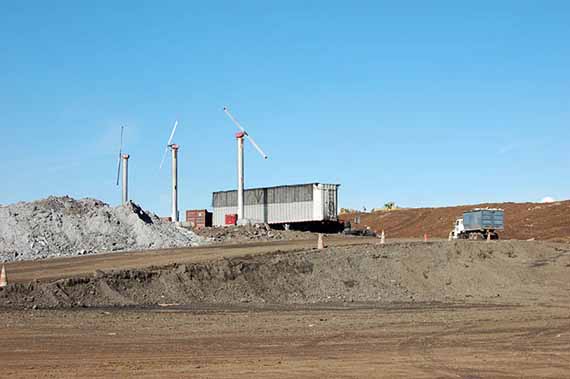 Nonetheless, Puente Hills is now a sufficiently large landform to generate its own microclimate and wind patterns--with the effect that several gigantic fans and berms dot the edges of the plateau, to keep wind from blowing over residential areas of Whittier.
Meanwhile, what look like large fishing rods stuck into the ground are actually bird deterrents. "In the old days," says Hewitt, "they would just shoot a sea gull in the morning--this was back in the 1960s or 70s. They'd wing a seagull, leave it out, and it would squawk and warn the other seagulls away. You don't do that anymore."
Instead, the thin monofilament lines hung from the rods disrupt the birds' landing glide. They are often sufficient control on their own, but, Hewitt explained, "When the weather's bad out at the ocean, that's when all the gulls come inland looking for food." Plan B starts with noisemakers, and ends with what someone flying a remote control airplane to buzz the birds, which Hewitt described as "the coolest job."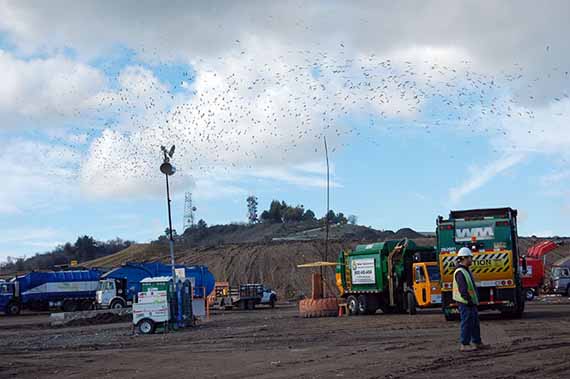 The rats are apparently even less difficult to control: Hewitt told us that the District's solid waste research group had "done a study, way back, which found that when they compact the trash they kill about fifty percent of the rats. Then, by covering it, the other fifty percent die from lack of oxygen. They can't survive the landfill process."
After one too many close calls for Hewitt's comfort, we retreated, retracing our steps before taking a side road round to an overlook in the buffer zone.
Standing next to a water trough (the park half of Puente Hills is criss-crossed with equestrian trails), we looked first west over Rose Hills Cemetery, the landfill's immediate neighbor, to the skyscrapers of downtown LA, and then back east to the brown plateau of the active dumping site, and the lush green of the terraced mountain, its contours defined by a spiderweb of white plastic tubes.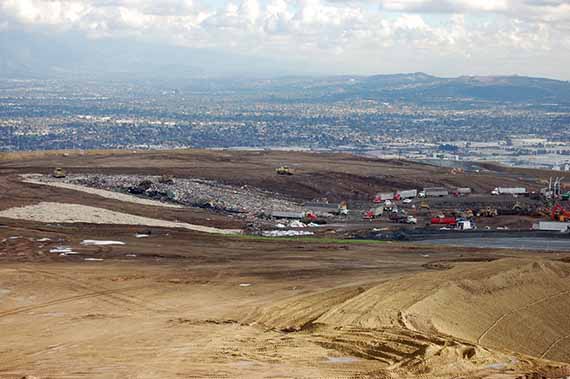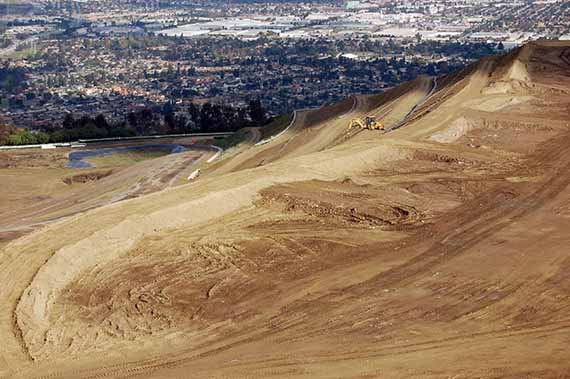 Decomposing garbage oozes toxic "leachate" and releases a steady flow of "landfill gas," which is a mix of methane, carbon dioxide, and other trace gases. As a result, both the interior and exterior of Puente Hills are filigreed with a network of plastic pipes--trash plumbing, to divert the leachate from groundwater and collect the landfill gas to prevent explosions and generate electricity.
Hewitt proudly points out the Puente Hills Energy Recovery from Gas facility, or PERG, which generates more than forty megawatts of electricity per day from more than 30,000 cubic feet per minute of landfill gas.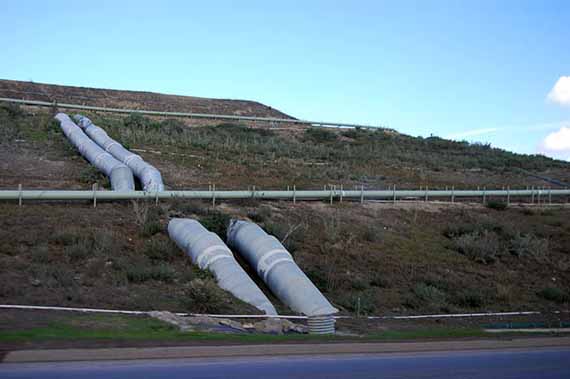 In Garbology, Hume describes Puente Hill's pioneering role in transforming landfill gas to energy:
Back in the eighties, the Puente Hills engineers decided to break with landfill tradition and stop merely "flaring" the gas--the practice of burning it inside a giant torch to keep the raw methane from entering the atmosphere, where it becomes a potent greenhouse gas--and instead put it to use for power generation. They soon ran into the same problem others had encountered when trying to mine energy from landfill gas: Over time, as the trash in the landfill decomposed and settled under its own weight, the pipes would crack, crush, and break. The ingenious, low-tech solution--adopted first at Puente Hills, now employed all over the world--was to use plastic pipes of varying diameters and fit them together loosely, with plenty of overlap, like arms in a sleeve. As the trash mound settles, the pipe sections can move up and down at different rates and angles without damage, yet stay connected.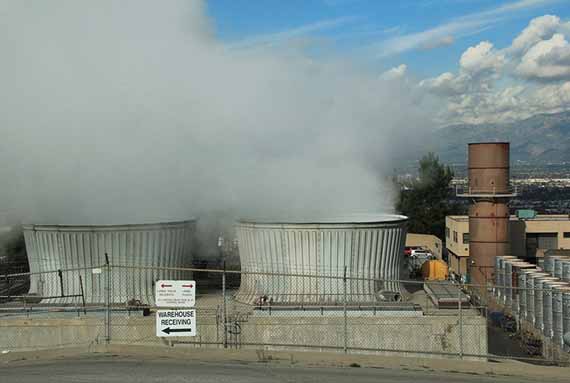 This gas will continue to flow for another fifteen to twenty years after the last piece of trash is accepted in October this year, which brought us to our final question for Hewitt: What happens when Puente Hills closes its doors for good?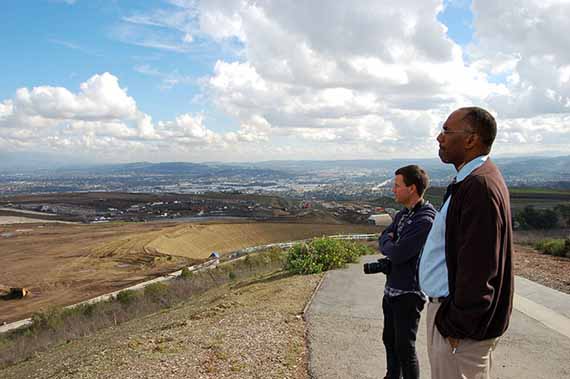 "There's no closing party or celebration plan," Hewitt told us. "No, we're just trying to save money. We're going to be in rough waters, because when this landfill closes, we're going to lose a huge revenue stream."
Nonetheless, work will continue at the site for the foreseeable future. In addition to the power plant, Puente Hills will become the intermodal transit site for the new "Waste-to-Rail" system that will funnel the County's trash out to the new Mesquite landfill -- which has sufficient capacity to accept 20,000 tons of trash per day for one hundred years. Meanwhile, the closed landfill will still need to be monitored for leachate contamination or methane drift--a precaution that will have to continue for at least fifty years, according to Hewitt--and, of course, there is the landscaping work to transition this canyon turned garbage mountain into its next reincarnation, as a county park.
Hewitt grimly predicts that most people in Los Angeles County won't know Puente Hills landfill was ever there until it's gone--when the region's private landfill operators take advantage of the gap between its closure and Mesquite coming online to raise their rates.
And with that, we got back in the minivan, slowly winding our bumpy way down from the heights of terrestrial artificiality, back to the sculpted highways of greater Los Angeles, heading west into the city again.
---

This post was originally published at V-e-n-u-e.com, an
Atlantic
partner site.