The Sun Lets Loose Its Biggest Flare of the Year (So Far)
This morning at 3:16 AM Eastern time a spot on the sun exploded in a M6.5 flare.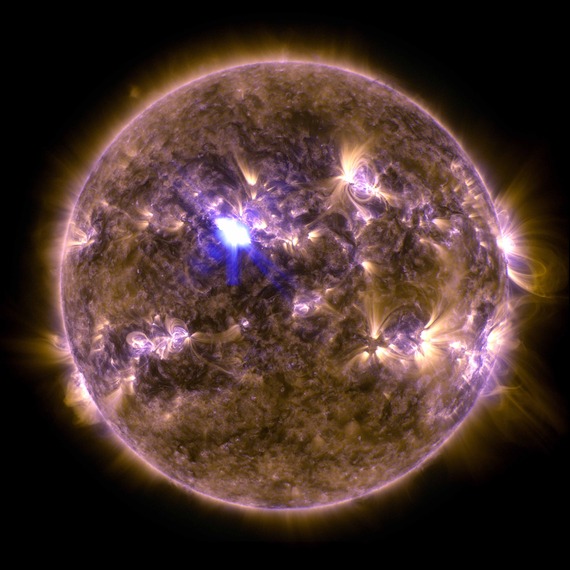 This morning at 3:16 AM Eastern time a spot on the sun emitted its strongest flare of the year so far, and NASA's Solar Dynamics Observatory caught this image of it.
The flare was classified as an M6.5, not the most massive (those are X-class), but large enough that it caused a "moderate" radio blackout (level R2) that, according to NASA, "has since subsided." The Earth's atmosphere protects humans and other life on the planet from the radiation that solar flares emit. 
Close-up view: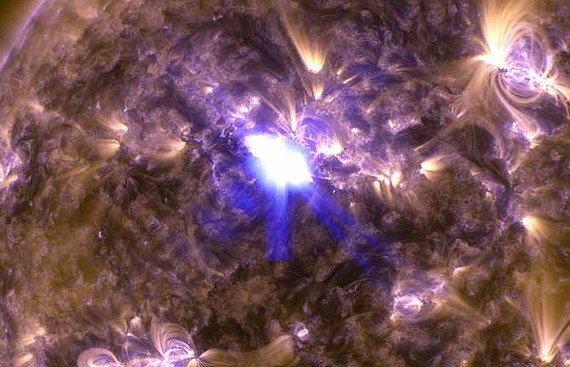 Update 2:26 pm: NASA has now additionally posted some information about a Coronal Mass Ejection associated with this morning's flare that left the sun at a speed of 600 mps* and could reach Earth in one to three days' time. Coronal Mass Ejections, or CMEs, are the release of charged solar particles into space and are what create the phenomenon known as aurorae at our planet's poles. The Solar Heliospheric Observatory (SOHO) captured a series of images of today's CME between 3:48 and 4:36 this morning (Eastern time). Mars is labeled at left.