The Story of How a Book Stolen by the Nazis Made Its Way Back Home
The 21st century hasn't just collapsed geographical distances, but distances of time as well, making history easier than ever to access.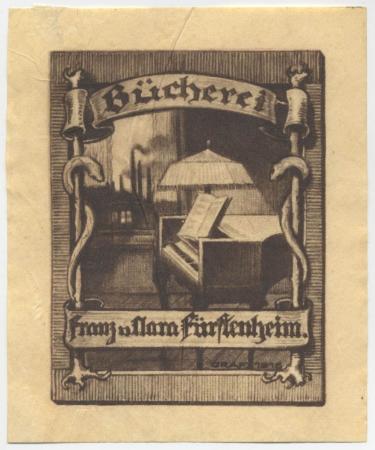 The book itself is nothing so special -- just a periodical from a German Alpine club -- but when Peter Schweitzer, a rabbi living in New York, saw it listed among the results of a Google search last spring, it took his breath away.
The book once belonged to Schweitzer's great-grandfather, Franz Fuerstenheim, a Berlin Jew who had fled his home as the Nazis rose to power. Schweitzer had stumbled into a project of the Central and Regional Library of Berlin to reunite possibly as many as 250,000 Nazi-seized books with their owners or descendents, (or, in most cases, the descendants of those owners). Bloomberg News's Catherine Hickley recently profiled this project as part of a broader story looking at how libraries are dealing with the Nazi-looted books in their collections. At the Central and Regional Library of Berlin, perhaps a fifth have identifying name plates that may make reunification possible, but for the remaining majority, there's no real chance of locating the former owners.
But Schweitzer was one of the lucky ones. His great-grandparents had put their nameplate in the book (pictured above), and the library had catalogued it under their names. Schweitzer's simple Google search pulled it up.
"I didn't know the database existed! I didn't have a clue," Schweitzer told me. "I must have just punched in the name and, the next thing I knew ..."
Once he had made the connection, Schweitzer had to prove that he was in fact a descendant of the Fuerstenheims. His father, who is still alive, recognized the nameplate. "One thing led to another and they said okay, we're going to give you the book," he told me. "I said great! I'm coming to Germany and I would like to be able to pick it up. And they said good."
So Schweitzer and his son, Oren, who was 10 at the time, went to Berlin last summer and made their way over to the library.
"We had to walk through one door after another door after another door to get to where we were going," Schweitzer describes. The library was "an interesting maze of rooms," inside which librarians sat smoking ("which shocked me") and they offered Schweitzer and his son lemonade and cookies. "That was very generous of them, I thought, but from my experience with rare book rooms, you don't normally have food anywhere near the books." But all seemed to go off without a hitch, and the book was returned, a passing from German back to Jew, seven decades after its seizure.
We often talk about the 21st century and the advanced communications technologies it has brought in the context of the phenomenon of globalization -- the collapsing of distances in a way that makes the whole world seem smaller. What we are less liable to realize is that this process is at work not just with geographical distance but with time, too. The Central and Regional Library of Berlin's lost-book database, like this project to build a database of slave burial sites or like the deep historical collections put online by libraries everywhere, makes the past somehow closer, easier to access, even though we may feel viscerally that the pace of technological change has made those times feel further away.
Interestingly, Schweitzer says that seeing the names of his great-grandparents in the results was more powerful, in a sense, than actually holding the book. "The book is an object which didn't have personal significance to me. I can't read it; I can't understand it." Perhaps had his family been killed in the Holocaust (Franz escaped eventually to New York, and Clara had died before the Nazis rose to power), the object itself would have much more meaning, sort of a synecdoche for the person lost, but for Schweitzer the crime the book represented was one of property, not life. The return of the book could repair that original wrong in a small but very concrete way.
"To find his name there, on this list of loss -- it is a list of absence and recovery -- knowing that probably significant numbers of the names on this list were killed, and knowing that they had survived ... there was something poignant about it in a different way."
"I guess," he concluded, "I could say that every little piece of finding something about [my great-grandparents] is restorative."