The Overwhelming Proliferation of Car-Sharing Companies
Too many transportation choices? There's an app for that.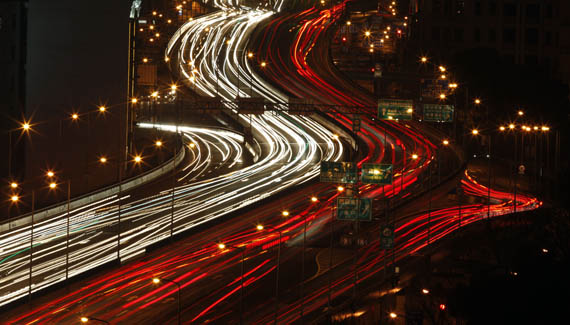 Reuters
The transportation industry is squarely in the crosshairs of the tech start-up industry, and the fruits of their disruption were on full display at this year's South by Southwest (SXSW), the high-octane tech-music-film festival in Austin last month. Uber, the on-demand towncar service, was offering free rides in pedicabs all over the city. SideCar, the ride-sharing start-up that was one of the most buzzed-about apps at this year's festival (partially because of its run-ins with city regulators), was offering free rides around town. Car-sharing service Car2Go had premium parking spots reserved around the perimeter of the Austin Convention Center.
Panels with names like "Transportation Apps and the Sharing Economy" and "Damn the Man! Disrupting Regulated Industries" featured the founders of Lyft and Zimride (ride-sharing), Wheelz and Getaround (car-sharing), and Flywheel (taxi-hailing). A "Hacking Transportation Meet Up" was sponsored by Scoot Networks -- a "Zipcar for Scooters." Hail-A-Cab, the Austin equivalent of MyTaxi and TaxiMagic, touted its services with a full-page ad in SXSW's official program guide.
I'm a fan of these new transportation disrupters. I'm in the sweet-spot of their demographic: a carless, eco-friendly, early-adopting urban-dweller. I used Uber to get me to the DC airport on my way to SXSW. A week before the conference, I received a holographic sticker from Car2Go for my membership card that qualified me a "Pro User." Together with my stay at three different Airbnb rooms over my time in Austin, I am a bona-fide member of the Sharing Economy.
But even for an avid user like me, the scene in Austin was quite overwhelming. Currently, most of these transportation apps are being beta-tested in different urban centers. But SXSW, which basically assembled all of them in a few square blocks, provided a vision for what the future could look like in major metros around the country -- and it wasn't pretty. As Columbia professor Tim Wu recently argued in The New Republic, "The unfortunate fact is that extreme abundance--like extreme scarcity, but in different ways--can make humans miserable."
There were so many options for getting from Point A to Point B, I was often paralyzed before I stepped out the door. Do I use a car-share or a ride-share? Should I order a cab, a pedicab, or a sedan? Car2Go or Zipcar? How about a scooter or a bike-share? What about plain-old public transportation? By the time I've checked the dozen apps on my phone, compared prices, wait times, and travel times, I probably could have made it to my destination by walking. It took my wife and I over an hour to weigh all the different options of getting her to the airport. (We eventually decided on a Zipcar.)
Thankfully, there seems to be an app that aims to make sense of this dystopian future of transportation. I met the founders of RideScout at SXSW, of course, where they showed me their new tool that aggregates all these various transportation options in a single interface. While most transportation options have their own apps, RideScout collects them in one place. You plug in your departure and RideScout will present you with various options based on your current location, allowing you to compare them by duration and price, all in real-time.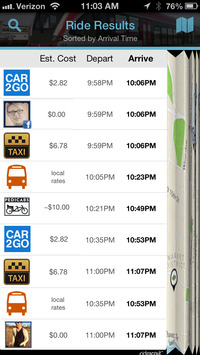 Founder Joseph Kopser thought up the idea when he was trying to weigh the many choices for how to get from his house to the Pentagon. "I had like 20 options on a very small 5 mile route, from biking to jogging to Virginia public transportation to friends in DC," he said. And that was two years ago, even before the proliferation of transportation start-ups. As with most accidental start-up founders, he assumed that someone had invented such an intuitive app. When he couldn't find it, he decided to build it himself.
The West Point graduate was also drawn to the idea that, after working for so long working for the military "in the business of consuming energy, ... now I have a chance to turn around and give back to society." Kopser compares his task at RideScout with his previous job working for Army chief George Casey. "Trying to get people to change their habits, change their mindsets," he said. "That is a hard, strategic long-term event, which can't be measured in tiny quick wins."
The most difficult challenge for RideScout has been synthesizing the APIs and databases from various apps and platforms that weren't designed to work together. The fact that new apps are coming out almost daily exacerbates the challenge, forcing them to be strategic with each new partner they attempt to integrate into their app. In presenting different options to users, RideScout is also struggling with how to compare "apples and oranges," with some services charging by the mile while others charging by the minute or hour.
They launched a beta version of the app in February with approximately 100 testers, and rolled out a more functional version right before SXSW last month, attracting over a 1000 users already. (The app is currently only available for iPhones, but they're hoping to launch an Android version by this fall.)
They've started out simple, beginning with the low-hanging fruit of public transportation data (available through Google Transit Feed), and then layering Car2Go's open API on top of it. Even with just Car2Go, RideScout offers a valuable service in estimating how much the trip would cost -- a feature that is unavailable (perhaps intentionally) on Car2Go's own site or app. (RideScout has developed their own algorithm to estimate cost, which they intend to hone as they get more ride data.)
Taxi companies have proven to be a particularly challenging group to get on board. "It would take a change of thought," Kosper said. "The industry would have to accept the idea of an aggregated source marketplace, which they never wanted it to be up until now." In the meantime, RideScout has created a portal on their site and app where individual taxi drivers can sign up to be listed in the system. But since that model is difficult to scale up, they are working on signing up full companies or partnering with an already-established taxi app rather than reinventing the wheel.
They're also in the process of creating a social ride-sharing infrastructure in the app, where people can log their upcoming drives and allow friends to hop along if they're heading in the same direction. They've synced the feature to Facebook to help identify friends on the app, and are working on creating a functionality for groups, like co-workers or teammates. Their vision is free ride-sharing, which would differ from the paid models like Lyft and SideCar -- companies that they also hope to integrate into the app. "We have no desire to invent new technologies," Kopser said. "We want to weave them together more seamlessly."
Kopser confirms that they've been in discussions with some of these start-ups but nothing has not been able to seal the deal yet. "Out focus right now is on national partnerships," says Craig Cummings, the app's other co-founder. They had talks with Zipcar that were put on hold during their merger with Avis, but Kopser "remains optimistic they will return to discuss that with us," he told me.
Most of these companies have their own private APIs, so RideScout has negotiate with each service individually to integrate them into the app. Their challenge is convincing these companies that "providing customers with more options and allowing them to choose what fits best, everyone benefits from those efficiencies," Kopser says. They're hoping to become a Kayak for local transportations -- a case in which most airlines eventually realized that it is in their interests to participate in an aggregator even if users sometimes choose their competitors.
What all of these apps, including taxis, are essentially trying to convince users that they can get to and from work, run errands, meet people for lunch, get to appointments, and do all their other daily tasks without having their own car. RideScout is betting that aggregating all these new transportation options in one place is the best way to make that case to users -- which is a win for all transportation disrupters. "If people aren't pumping $50 into a tank when they fill up, they can transfer that money to taxis, public transportation, and these other options," Kopser says. "When people make the decision to leave their car at home, we all win -- the roads are less clogged, there is less smog, and money is staying in the local economy."
RideScout's ultimate goal is to make a user experience that is so seamless it replicates the ease and flexibility of owning a car. Millenials are already making the shift away from car ownership: A recent study by car site Edmunds.com found that young adults aged 18-34 purchased 30 percent fewer cars in 2011 than they did in 2007.
Though the platform is "transportation agnostic and geography agnostic," as Kopser describes it, technically working anywhere that has a Google Transit or Car2Go feed, their focus is currently on Austin, where the company is based (and the city that has the highest smartphone-adoption rate per capita in the country). "For every Austinite who finds an alternative for their commute, " said Austin City Council Member Chris Riley, "RideScout has helped all of us by taking one more car off the road."