Pet GPS: It's Not Just For Cats
This is the kind of innovation that makes America great, no?
Earlier this week, I told you the story of Lost Cat, a new book about pets, love, and GPS. So, of course, a vendor of pet GPS products got in touch with me. As a public service, in honor of National Pet ID Week, which begins April 15, I'd like to point out that the company Snaptracs sells Tagg, a real-time tracking system for animals.
This is not the homebrewed system that Caroline Paul and Wendy MacNaughton used on their cat, but a commercial system with apps for your phone (Android and iOS) and a marketing program centered on puppies.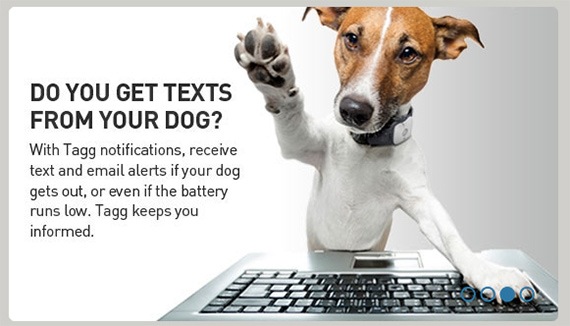 Snaptracs is owned by a Qualcomm subsidiary. And the Tagg's main competitors appear to be Garmin, which sells the pet-friendly GTU 10, and DogTracs, which is sold through Costco.
Does the Tagg work as advertised?
Most Amazon reviewers seem to think so (and they give the Garmin unit decent marks, too). While some people complain about the monthly subscription's pricing scheme, the actual product seems to do exactly what people think it will. Here's a representative narrative:
On a single charge the tracker lasted 3 weeks and this included my dog being outside the Tagg zone about 6 times for a combined total of about 2 hours. Each time he left i got a notification about 3 minutes after i noticed he was gone. I would grab my ipad and jump in the car and setup the 'start tracking' feature which would update his location on the ipad app map every 3 minutes. Most of the time i was able to find him within 1-2 more updates and every time he was exactly where it indicated. 3 minutes might seem like a long time and it is if your tracking a car downtown but for a dog that's just wandering up the street it's more than enough.
As a newly converted cat person, I have to say that tracking your dog with GPS has none of the romance of tracking your cat. With a dog, you're dealing with an escaped prisoner that you're hunting down to return to your yard. With a cat, the GPS is a means of vicarious exploration. Cats know a neighborhood in ways that humans never will, but if you attach a GPS to a cat's collar, you can at least begin to understand the lives they lead.
Also, yes, of course, this is all ridiculous (until your own pet goes missing).