'People Who Thought Chechnya Was the Czech Republic,' Collectors' Edition
It's becoming harder and harder to be ignorant of ignorance.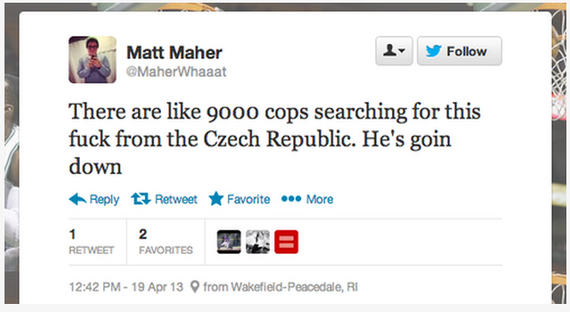 publicshaming.tumblr.com
Twitter and Facebook, at their best, mimic person-to-person conversation: They provide a way for people to chat -- and laugh and argue and share -- unconstrained from boundaries of geography. And then, even better, they archive the conversations we have, giving our interactions a kind of dual residence in the worlds of real time and permanence.
The catch in all this, of course, is that sometimes our conversations are not terribly worthy of archiving -- at the Library of Congress, or in our own feeds. Sometimes the stuff we write is silly. Sometimes it's tasteless. Sometimes it's incorrect. And sometimes it's all three at the same time.
Take the tweets below. They were posted, for the most part, last week, after we learned the identity of the alleged perpetrators of the Boston Marathon bombings. They were posted by people who didn't seem to know the difference between "Chechnya" and "the Czech Republic." (And, in some cases, between "Chechnya" and "Czechoslovakia.") They have been archived by Twitter, and collected on the aptly named Tumblr "Public Shaming," under the heading of "The Definitive 'People Who Thought Chechnya Was the Czech Republic' Collection."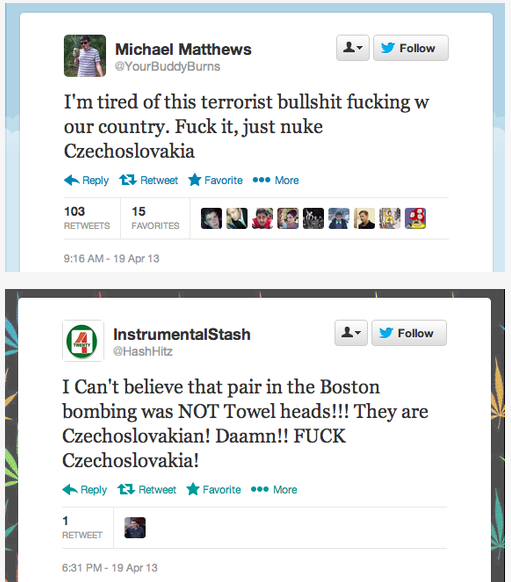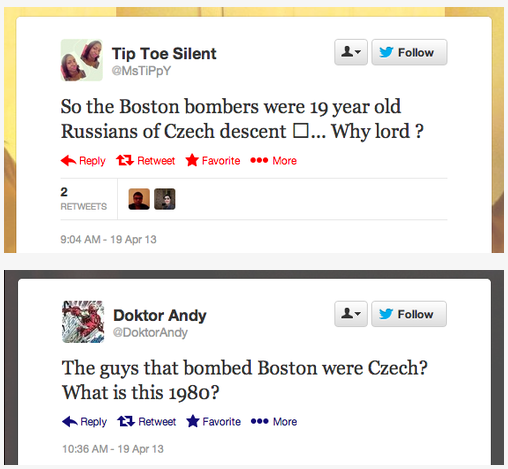 The Chech/Czech confusion was evident on Facebook, too: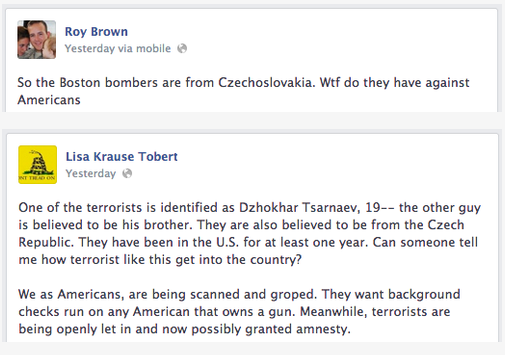 Should you want it, there's more -- much more -- at the Public Shaming Tumblr, here.
What's remarkable about this, though, is not (just) that people didn't know the difference between two very different places. We're all ignorant, in our own ways. It's instead the shape that ignorance can take when it's expressed, and manifested, on the Internet. With the web's particular affordances -- personal comments made public, ephemeral thoughts made permanent -- ignorance (not to mention hatred, not to mention kindness, not to mention joy) can now become its own kind of media product. It is no longer geographically isolated. It is no longer temporally constrained. It is now a thing -- an object -- to be mulled over and laughed at and, either way, made aware of on its own terms. It is circumstance, transformed into evidence.