Peek In on Our Strange, Wonderful World With a New Archival Video App
The Linger app brings you to a special corner of the Internet.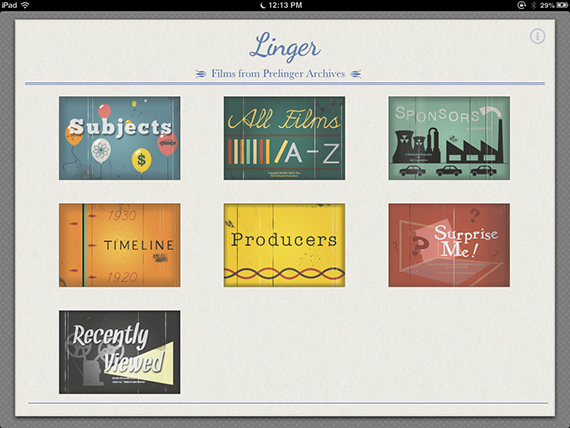 I've said it before and I'll say it again: Rick and Megan Prelinger, the curators of the Prelinger Archives and Prelinger Library, are a national treasure. Following their own interests and supported by their talent and insatiable curiosity, they've assembled and digitized a vast collection of ephemeral films from the 20th century. And they've put them online for all of us to enjoy (with Creative Commons licensing, no less).
And now, thanks to developer Chuck Shnider, there's a way to easily access 1,800 films from the collection on your iOS device through a new app called Linger. This is wonderful!
You can browse the collection by subject, sponsor, producer, title, or date, but the best way into this collection is to pick something at random. And for that, there's the "Surprise Me!" button. Unlike most "I'm feeling lucky" buttons, this one actually yields things worth watching.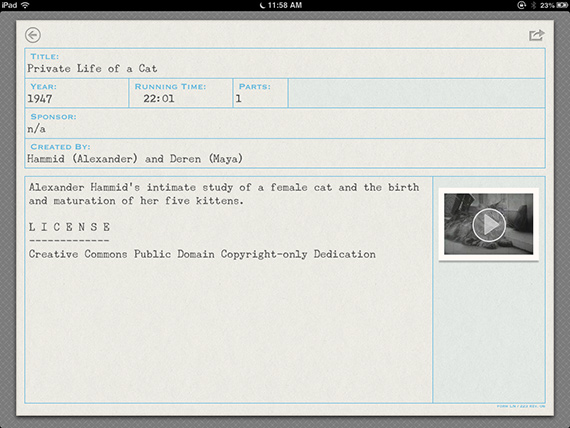 In my first three spins, I got "Vision in the Forest," a cringeworthy short film starring country singer Vaughn Monroe sponsored by the National Forest Service. Then, I drew "To Market, To Market," about the birth of outdoor advertising in Chicago (along with a heavy dose of Cold War-era American capitalism promotion). And finally, my good fortune brought me a masterpiece, The Private Life of a Cat, a film Alexander Hammid made with his wife, Maya Deren. The film is intimate and lovely, with cat point-of-view shots and more depth and drama than seems possible. This is not a joke, and these filmmakers were not jokers. This was their second collaboration. Their first was the experimental filmmaking milestone, Meshes in the Afternoon.
That's the kind of range you find in the Prelinger collection and (therefore) the Linger app. This is a special corner of the Internet: a series of unintentional selfies of times and places that no longer exist.