News Footage From the Texas Explosion ... of 1947
The 20th century version was eerily similar to the hand-shot news of today.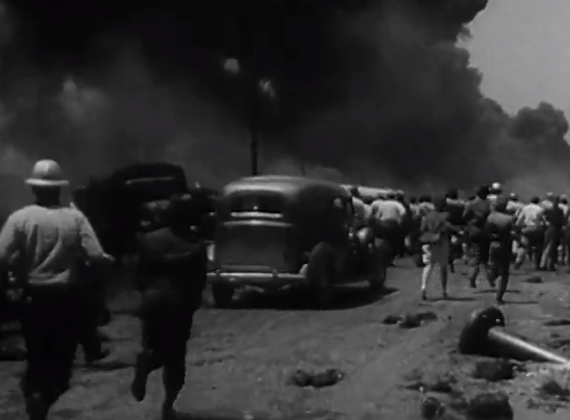 On April 21, 1947 -- 66 years to the day before the explosion in Texas that killed at least five people and wounded many more -- there was an explosion in Texas. The blast, the result of an industrial accident which would become the deadliest in U.S. history, killed more than 500 people and left many more injured and homeless.
People got news of the tragedy via newspaper and radio, but also via newsreels shown in movie theaters and other public places -- works that blended news and art and offered cinemagraphic takes on the world as it was. Works that, for better or for worse, doubled as movies. You can watch a newsreel of the "TEXAS DISASTER" -- highly produced, heavily narrated, and featuring a soundtrack -- here.
But the newsreels, of course, were made from raw footage. Here, via the Prelinger Archives, are the silent and effectively unedited pictures that formed the world's first knowledge of what happened in Texas:
Compare that to the "newsreel" of today: the hand-shot, first-person-perspective video, often shaky and occasionally expletive-laced and distinctly unedited. The kind that makes its way to people not through the setting of the movie theater, but through computers and phones and, occasionally, broadcast news. The 1947 images are professionally shot, ostensibly, but bear much more in common with the footage we've become used to today -- footage that trades production values for raw experience. Footage that presents news to viewers, but then asks those viewers to find their own meaning in it.
H/t @pbump