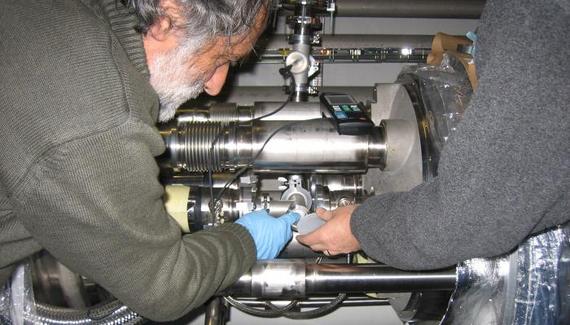 The Large Hadron Collider, the largest and highest-energy particle accelerator in the world -- the thing some people once feared would destroy the Earth, and the thing which so far has not -- is a complicated piece of machinery. It is composed of eight straight sections joined together by eight arcs -- 17 miles in circumference, in all -- and it features more than 1,600 magnets that bend and focus beams of particles as they travel close to the speed of light. Imagine all the maintenance. And complicating things even more is the fact that the LHC, when it's operating, does so at a temperature well below freezing, which causes its many metal elements to contract ever-so-slightly. Occasionally, the contraction leads to equipment buckling and then bulging and, in turn, blocking particle beams.
Which is not good, when the whole purpose of your existence is to facilitate the movement of particle beams.
So scientists at CERN, as they overhaul the collider to prepare it for future research, need to test the LHC to make sure it offers a pothole-free path for the particles that travel it. And they have developed a delightfully low-tech tool for doing that: a ping-pong ball. Technically a "radiofrequency ball," because Science ... but the lightweight sphere is a pretty faithful rendition of the one you might know from college or camp or world-class sporting events.