NASA Released a Magical Timelapse of 3 Years of Solar Beauty, and We Set It to Dubstep for You
You better sit down for this one.
For three years, NASA's Solar Dynamics Observatory has been orbiting our planet, keeping its watchful eye on our sun, a star in our own backyard. During that time, we've seen amazing things: massive, absolutely massive, solar flares, the planet Venus transiting the solar face, and a mystifyingly beautiful phenomenon known as solar rain.
The video above compresses those three years into four minutes, using two frames from each Earth day. It was originally scored with some elvin violins, so our fearless leader, Alexis C. Madrigal, set it to dubstep for us ("Yumeji's Theme," by Japanese composer Shigeru Umebayashi, remixed by Piktogram). If you pay close attention, you'll notice two partial eclipses by the moon, several roll maneuvers the satellite undertook, and a few major solar flares.
Everything you see was captured in "extreme ultraviolet" light (171 angstroms), and rendered into light visible to humans. At points, the sun appears to grow bigger and smaller, an artifact of the spacecraft's changing distance from the star. According to NASA, the SDO is moving around the Earth at 6,876 mph.
Additionally, NASA has released a composite of 25 images taken over the past two years, from April 16, 2012, to April 15, 2013. In it, you get a pretty good sense of the sun's heliography. Click to expand.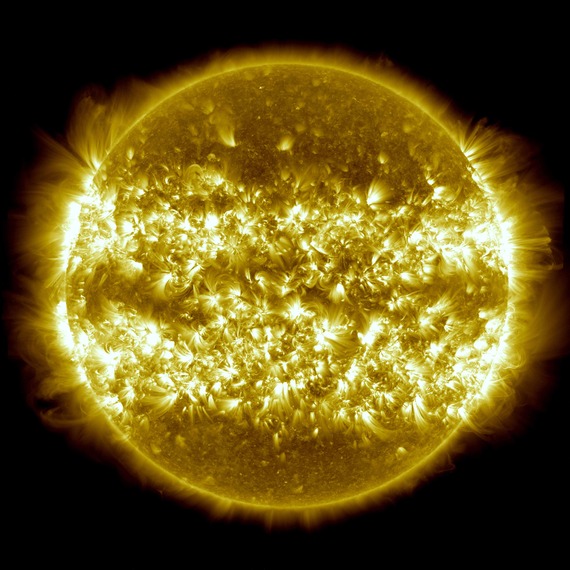 For more videos from NASA, visit http://www.nasa.gov/.