How One Woman in Kansas Sent a Personal Message of Thanks to Boston
"I was inspired by the kindness and trust I think the spreadsheet represents."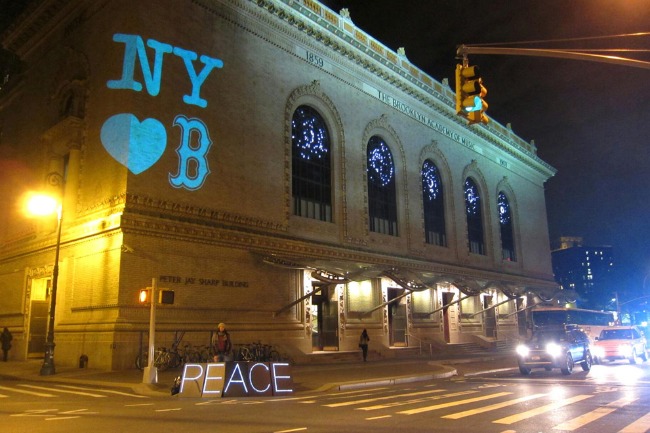 Lucky Tran/The Illuminator collective
I remember hearing a story, perhaps apocryphal, in the days after 9/11 about a woman in Manhattan receiving a call from a total stranger. The stranger explained she had just picked up her phone and dialed her own number, subbing a 212 area code in for her own -- like calling some parallel world, New York version of herself. She just wanted to connect to someone there, she explained, and she just wanted to let this New York counterpart know that she was thinking of them.
In the wake of the bombings in Boston, that story has loosely played out again, this time over the currents of email, not telephone lines.
By now you've seen the Google Doc of people offering their homes to those stranded in the city the night of the bombings. Contained in that spreadsheet was yes, the outpouring of generosity, but also there was the contact information -- email addresses, phone numbers -- of a hodgepodge group of residents of Boston and the surrounding towns. For anyone anywhere, wanting to reach out to Boston and send their support, this list was gold.
And that was exactly the thought that Hallie Velez of Lawrence, Kansas, had. "My name is Hallie," she wrote to about 10 people on the list (selected mostly randomly, she told me via email). "I live in Kansas. I've never been to Boston and I don't need a place to stay but I found your names on the 'I have a place to offer' spreadsheet and I wanted to say thank you."
She continued:
I was overwhelmed this morning when I read about the small and large acts of kindness being given all over your city. I just wanted to send a few small notes to let you and your fellow citizens know that the word is out. Boston is bigger than this bombing, bigger than this tragedy. I want to spread your kindness a little wider.

Thank you for opening your hearts and your homes to people who are far away from home and frightened. Thank you for trusting people to keep you safe when you do so. It's people like you that keep the world moving in the right direction. Keeping all of you in my thoughts.
Velez is expecting a baby in about two weeks. Monday's attack put into full contrast the sometimes-awful state of the world with the act of optimism that is bringing a baby into the world. When she saw the spreadsheet, a piece of her "thought it was incredibly naive and trusting and dangerous to extend hospitality like that," but "a bigger part of me thought that people and actions like this are what make me an optimist and what make me thankful."
"I was inspired by the kindness and trust I think the spreadsheet represents," she wrote to me. "I just wanted to give a little of that back and hopefully spread it wider."
H/t Benjamin Maron