Gorgeous 'Light Paintings' of D.C.'s Cherry Blossoms at Night
With a long exposure and a flashlight, Jacques Domenge brings out the surreal beauty of the cherry trees after the crowds have gone.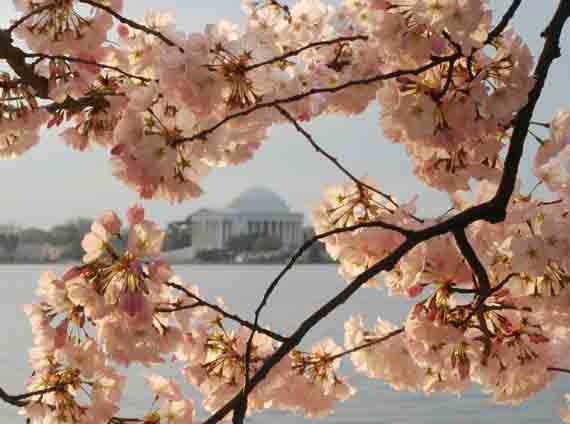 Reuters
D.C.'s famed cherry blossoms have finally (finally) bloomed, ringing the Tidal Basin with puffy pink clouds of flowers.
At night, the trees' colors fade. They become silhouettes against the city's brightly lit skies. Unless, of course, you take it upon yourself to light them up.
This is what Jacques Domenge does with a technique known as "light painting." He sets his camera (a Canon 5D Mark II), mounted to a Gorillapod, to the bulb setting and then methodically waves a flashlight (the Fenix TK35, "the most powerful flashlight I could find") across his composition. Each picture can take anywhere from 30 seconds to three or four minutes. Sometimes people walk in front of the camera while he is taking the picture, but they don't show up if he doesn't "paint" them with his flashlight.
Domenge has recently gotten inspired by the organizational-development model known as Appreciative Inquiry, which urges people to spend less time and effort on problem solving and more on finding and then bolstering good things. "If you think of the greatest thinkers of the world -- the people who have done the greatest things -- none of them were looking to solve some problem, they were all thinking: How could this be great?" he told me.
Domenge says that this is what brought him out to photograph the cherry blossoms at night. "This is something totally new for me," he continued. "I've spent most of my days as a photographer doing jewelry photography, or ads, or a lot of portraiture. I was thinking I'd really like to take pictures of the cherry blossoms, but I don't want to deal with the crowds." But then he thought of light painting the trees, and realized he could work long after most of the crowds had dissipated, trying something new and stepping beyond his usual routine to appreciate something beautiful -- the cherry trees -- and drawing them out into something new and, maybe, even greater.
"Using a flashlight as a paintbrush gives you the flexibility to make light come from whatever direction you want," he told me. The results are a bit surreal, with a studio-effect quality; trees as though they lived on the set of Mad Men.
Here are Domenge's light paintings. Be sure to click to expand.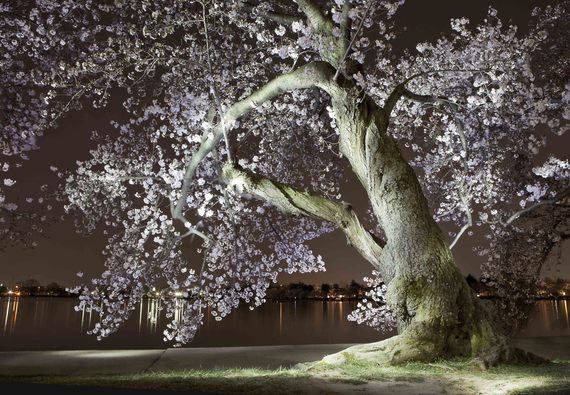 H/t @faketv.