Did Apple Ban a Comic From the App Store for Depicting Gay Sex?
Saga's sexually explicit content has gotten the green light from Apple in the past. All that's different this time is that the characters participating are two men.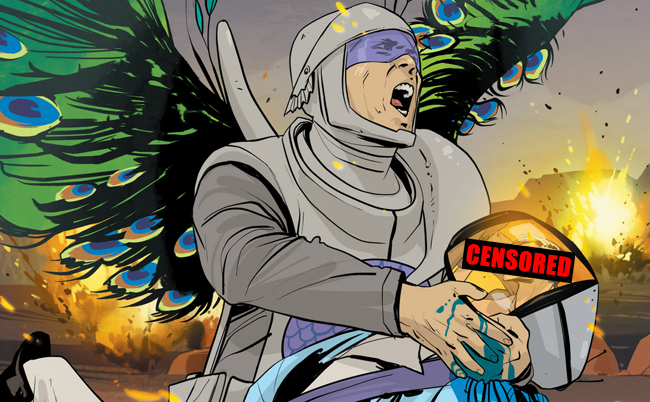 Since it debuted in March 2012, the popular comic book Saga has illustrated the following: robot sex, a giant with five-story-tall sagging testicles, a child prostitution ring on a brothel planet called Sextillion, blow jobs, fisting, interspecies erotica, and enough bloody viscera to make a butcher squirm.
But none of these are why Apple banned the most recent issue of the comic book from its App Store this week. No, Saga #12 won't be available for purchase because of "two postage stamp-sized images of gay sex," according to writer Brian K. Vaughn. In a statement he released Tuesday, Vaughn explains:
As has hopefully been clear from the first page of our first issue, SAGA is a series for the proverbial "mature reader." Unfortunately, because of two postage stamp-sized images of gay sex, Apple is banning tomorrow's SAGA #12 from being sold through any iOS apps. This is a drag, especially because our book has featured what I would consider much more graphic imagery in the past, but there you go. Fiona and I could always edit the images in question, but everything we put into the book is there to advance our story, not (just) to shock or titillate, so we're not changing shit.
You don't need to read comics to recognize the foolishness of Apple's decision -- and regrettably, this isn't the first time the App Store has removed comics for sexual themes. As Comics Alliance noted, the App Store banned an adaptation of The Importance of Being Earnest in 2010, only to reverse the position later, calling it a "mistake." Just last month, Apple also banned an issue of a new series, Sex, for violating its standards.
For readers, this is a minor inconvenience. You can still download Saga #12 and sync it to an iOS device, meaning that it will be relatively easy to subvert Apple's ban. (There's always the ink-and-paper version, too.) And yes, as The Verge suggests, these bans generally reflect a tension between creators and distributors on digital marketplaces. It's awfully difficult to separate "censorship" from "curation" when Apple owns and controls the space where art is sold. Distributors have a right to choose what to sell. It shouldn't make a difference if that distribution occurs in a brick-and-mortar bookstore or the App Store.
Saga's ban is more complicated than that. Many of the series' prior issues included sex acts. The only difference between what was drawn in those issues and what was drawn in Saga #12 is a matter of sexual orientation. Banning this one and selling others is an unreasonable, inconsistent application of whatever standards Apple sees fit to use to determine what belongs in the App Store.
Quite simply, it appears Apple doesn't want to sell this issue because it depicts gay sex. Readers should have the opportunity to download every sexually explicit issue of the comic, or none of them. Living in the between is hypocritical at best, and bigoted at worst.
We reached out to Apple for comment and will update this post if they respond.
Update: Comixology CEO David Steinberger put out a peculiar statement this afternoon, claiming that the issue will be made available for purchase through the App Store soon. He also denied that Apple banned the issue, writing, "As a partner of Apple, we have an obligation to respect its policies for apps and the books offered in apps. Based on our understanding of those policies, we believed that Saga #12 could not be made available in our app, and so we did not release it today. [...] Given this, it should be clear that Apple did not reject Saga #12."