Boston and the Kindness of Google Docs
Empathy, in the guise of a spreadsheet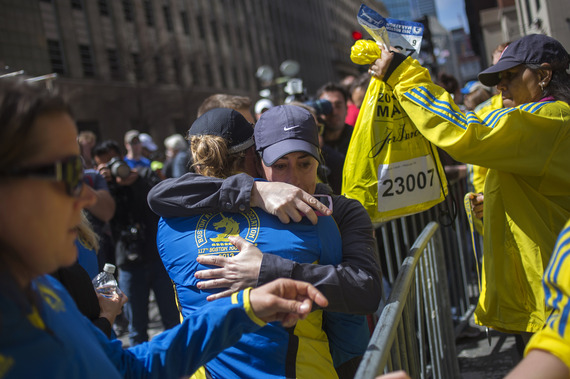 Now comes the waiting. We're entering that slow, sad space following tragic news, the place that separates a something happening from sense made. We know what happened in Boston; we do not yet know what the hell happened in Boston. Facts, disembodied, hang in the air even after the smoke has dissipated: the explosions. The confusion. The severed limbs. The blood. The tears. The worst kind of rebellion, carried out on Patriot's Day.
So here we are, once again, in informational purgatory, a place where nothing is true but everything might be.
Here's something good, in the meantime. While we don't know much for sure at this point, except that three people were killed and more than 173 were injured in Boston yesterday afternoon, we do know this: People, as they so often do, responded to tragedy with kindness. It was everywhere: marathoners running straight to the hospital to give blood to the bombing's victims. Reddit, sending pizza. Google's Person Finder, adapted from previous use with natural disasters. Messages of solidarity, cast in defiant lights and sent between cities.
I want to point you, though, to two instances of kindness that took the improbable form of the humble Google document. The first was created by the Boston Globe yesterday afternoon to facilitate pair-ups between runners who'd been stranded in Boston and city residents who had housing to offer.
Some sample offerings:
I'd like to offer our home to anyone who needs a place to stay after this horrific tragedy. We live in Shrewsbury, about 45 minutes outside the city, but will come in and get you.
We have a pullout bed in our living room that could accommodate two people. We live right next to the airport in East Boston. Let us know if you need a place.
We have a very comfy couch heating and christmas lights :)
Hello all! I can fit 2-4 people in my home 20 minutes north of Boston. If interested, give me a call and I'll come pick you up wherever you are! Stay strong!
They go on like this, line after line. Some of the entries, unsurprisingly, are jokey (such as the housing offering from a "TJ Syphilis"). None of them are vetted; this is more Craigslist than Airbnb. This is grassroots disaster response. But cell by cell and message by message, the offers become not just offers of housing, but also real-time monuments to kindness. This was a community coming together, in real time, aided by a basic technology.
Which brings me to the second thing: another Google Doc, created anonymously and titled "Caring for the Richard Family." The Richard family was, collectively, one of the most tragic victims of yesterday's bombings: The family's 8-year-old son, Martin, was killed in the explosion; his mother, Denise, was severely injured; his sister reportedly lost a leg. (Martin's father and other sister were apparently uninjured.) The document, publicized on the Boston.com website, currently has 64 contributions, offering the family everything from cooked meals to cleaning services to donations to a scholarship fund.
Column I of the form asks whether volunteers know the Richard family personally. The vast majority answers "no."
These two living documents are little things. And they are offers of help, of course, rather than help itself. (One offerer on "Caring for the Richard Family" notes that the family might not actually want well-meaning strangers coming around their house. Which, yes, good point.) But what they are, as well, is evidence of empathy made real and visible and actionable. They are digital, and potentially quite useful, versions of flowers left at a shrine. Sympathy, for the most part, is fleeing -- an emotion too often felt and dissipated at nearly the same time. These web forms, though, turn empathy into an object. They document it. They archive it. They make it part of Boston's ongoing story. They serve as a reminder that, among the smoke and the blood and the anger, some people got together, one by one.