A Rare Audio Visit to the Apollo 11 Triumph
A very, very brief history of the space race in sounds, photographs, and animated GIFs.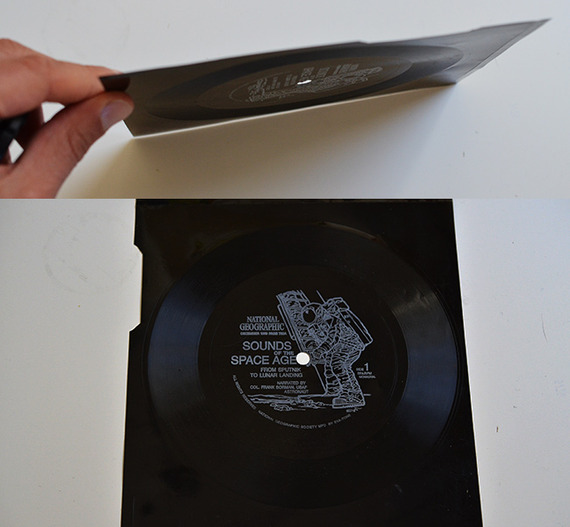 I'm obsessed with oddity records. And at an estate sale this weekend, I found one of the best ever produced by a magazine: The Sounds of Space.
After the successful Apollo 11 mission to the surface of the moon, National Geographic ran a special issue dedicated to the trip to the moon. Inside that issue, they included what's called a "Flexi disc," a very light piece of plastic that you could be mailed with the magazine and then stuck on a turntable. This disc featured astronaut Frank Borman narrating a (very, very) brief history of the space race from, roughly, Sputnik to the moon landing. It was the second time that National Geographic had mailed a disc; the first was an address by Winston Churchill. (Incidentally, the most popular was humpback whale sounds in the 1970s.)
When I heard the record, I immediately thought I should create some way for you to experience it. There's just something about these old sounds: Radio Moscow celebrating Yuri Gagarin, the fear in John Glenn's voice as he heads for splashdown, astronaut Ed White's joy as he spacewalks, the check-off that preceded the Apollo 11 landing.
The record runs about 11 minutes. I've used the multimedia authoring tool Zeega to create a kind of audio picturebook out of the Flexi disc. You can advance to the right to hear the next audio segment at any time. That is to say, it kind of works like a slideshow with a soundtrack. (Also, feel free to full-screen it for a much more immersive listening experience.)
The Apollo 11 audio came from a special link that National Geographic made to the mission headquarters.
"To ensure a record of the highest quality (electronic filtering has improved the clarity of many of the voices), your Society recorded the complete Apollo 11 space-ground communications, piped by two phone lines from NASA's Goddard Space Flight Center," the record's intro assures us. 
"At Society headquarters, diesel generators, a safeguard against power failures, drove the recorders. The Apollo 11 tapes, on 95 10-inch reels, now form a part of your Society's growing audiovisual library--a part that is literally out of this world."