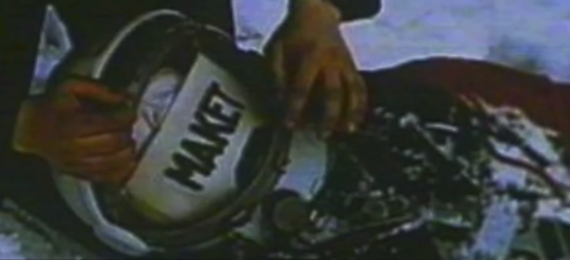 On March 25, 1961, a group of peasants in Izhevsk, a village near the Ural Mountains in the center of the Soviet Union, watched a man fall from the sky. He wore a bright-orange jumpsuit attached to a blooming parachute. His arms shook. His legs flailed. When he succumbed, finally, to gravity, he crumpled onto the snow-covered ground. He made no noise. The Izhevsk villagers, Deborah Cadbury writes in her book Space Race, were baffled by the sight of this fallen flier and "his lumpy body." They ran to him, opened his helmet's visor -- and were even more bewildered by the new sight that greeted them. 
The gaping helmet revealed, Cadbury notes, not a face, but a sign, printed with stark capital letters: MAKET, or "mock-up." (Less technically: "dummy.") The figure they'd just seen hurled from the heavens wasn't a man so much as a mannequin -- a space-traveling doll. He was an early cosmonaut, or rather a cosmonot: a sailor of the stars in every sense but the human one. 
The Doll It All Hinged On
His nickname was Ivan Ivanovich -- "John Doe" -- and he was, in his way, the first person in space. (He beat Yuri Gagarin to that honor, technically, by four weeks.) Today Ivan is displayed, still in his Tang-orange suit, in the Smithsonian -- a steely-eyed relic of a time when space inspired not just wonder, but something else, too: fear. We may now regularly tweet with astronauts living in space. We may now regularly enjoy their quirky YouTube videos and Google Hangouts and AMAs, delighting in the mind-bending images of microphones (and food, and water, and cameras, and humans) floating in microgravity. We may now treat space as, along with so much else, a form of entertainment.